So "The Squad" threw multiple tantrums on the House floor on Tuesday, because Republicans finally did the thing they said they were going to do for weeks now — kick Rep. Ilhan Omar (D-Minn.) off the House Foreign Affairs Committee.
As Brittany Hughes reported for MRCTV, socialist Rep. Alexandria Ocasio-Cortez (D-N.Y.) stomped and stuttered and stammered her fake outrage towards Republicans in the House, once again proving that there's no age minimum in Congress.
Activist Rep. Rashida Tlaib (D-Mich.) fake cried towards the end of her tantrum on Tuesday.  But, ironically, no one brought up how Democrats removed Rep. Marjorie Taylor Greene (R-Ga.) from her committee's simply because they didn't like her.
Related: Trump Jr. on Gov't Alphabet Agencies: 'The Institutions are Beyond Saving...Just Disband Them and Start Over'
In response to their tirades, Donald Trump Jr. referred to "The Squad" in a tweet that included video of Tlaib's acting performance as "The Hamas Caucus," and alluded to one of Omar's famous quotes from years ago when she said "some people did something" about the September 11, 2001 terrorist attacks on the U.S.
"I'm shocked," Trump Jr. tweeted, "but also glad that finally some people did something."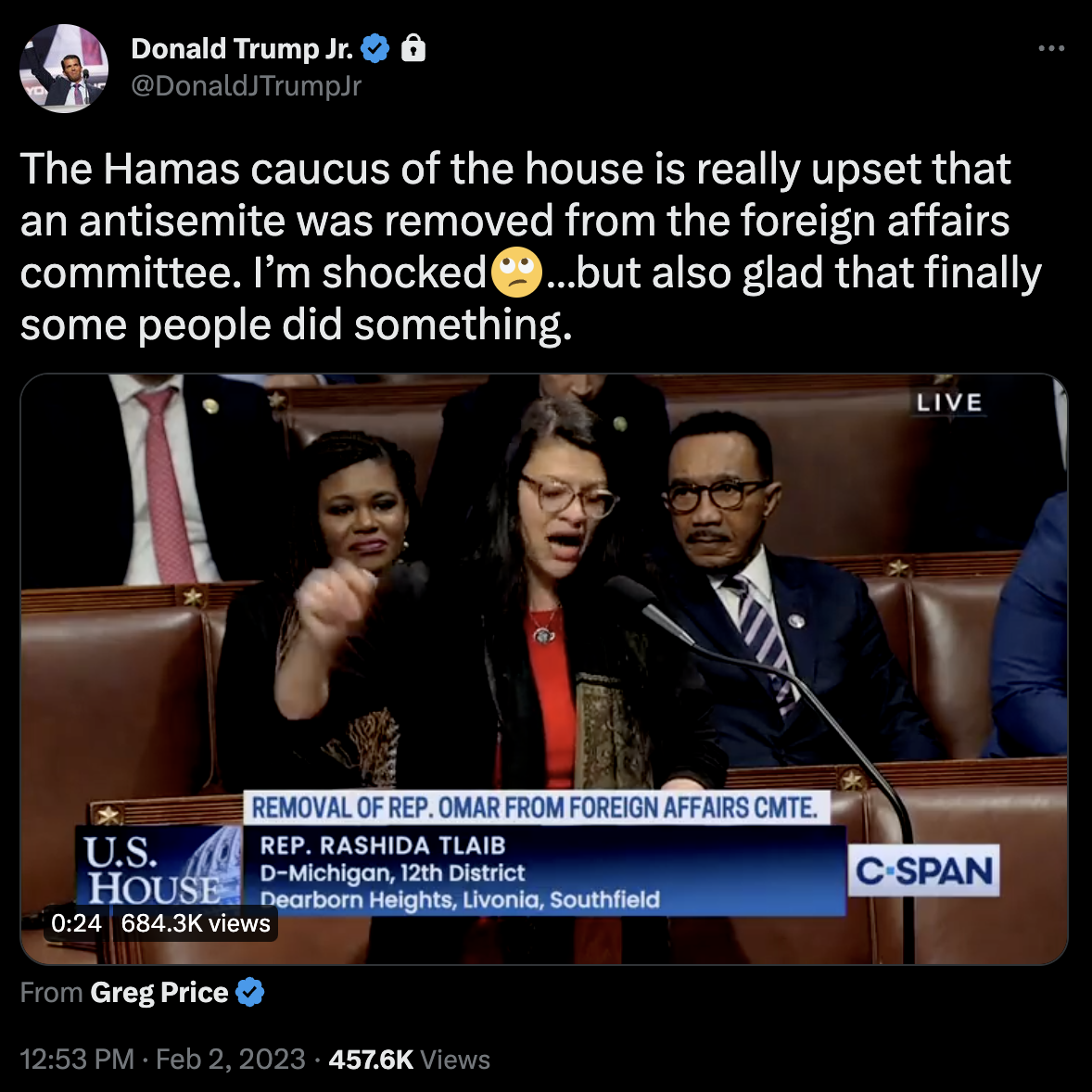 Call me crazy, but a woman that downplays the biggest terrorist attack in the history of the U.S. shouldn't be serving in Congress, let alone a committee in the House.
Follow Us On Twitter
.@SpeakerMcCarthy snaps right back at a reporter trying to push DNC talking points over removing Ilhan Omar from the House Foreign Affairs Committee. pic.twitter.com/6fkqXGjUiA

— MRCTV (@mrctv) February 2, 2023