It turns out the story of the 26-year-old man who claimed he was stabbed because of his "neo-Nazi" haircut is a hoax.
Joshua Witt's tale about being stabbed because of his haircut went viral after he alleged in a Facebook post that he was stabbed for merely appearing to "look like a neo-nazi." As of MRCTV's original reporting on the issue, the Facebook post had been shared 35,000 times.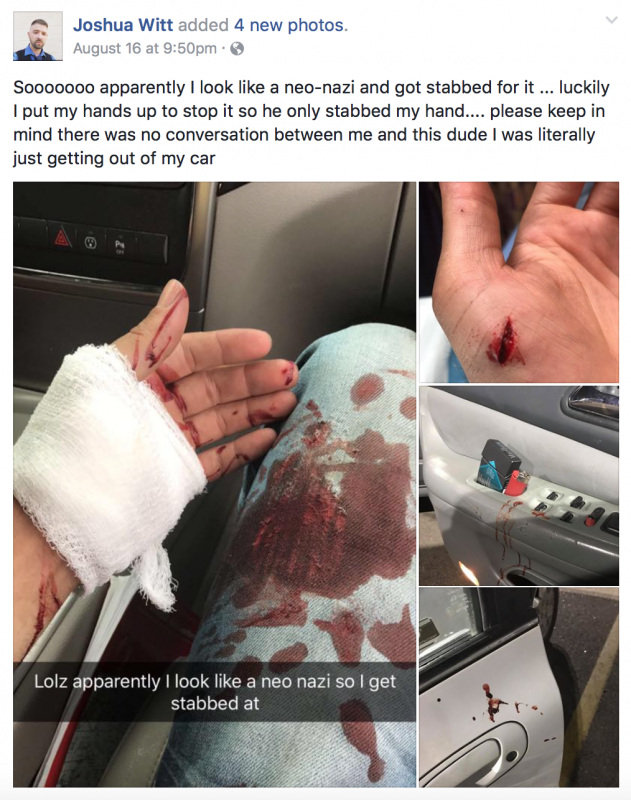 According to CBS Denver, Witt told police the attacker was a black man. Upon looking up the footage from the Steak 'N Shake Witt claimed he was assaulted in front of, police could not find anyone running from the scene.
Surveillance cameras did, however, capture Witt buying a knife at mere "minutes before the alleged attack."
When questioned by police, Witt allegedly said he admitted to cutting himself with the knife and fabricating the story.
Witt was reportedly booked on false reporting charges. If he is convicted, he could face up to one year in jail and a fine of up to $2,650.
Thank you for supporting MRCTV! As a tax-deductible, charitable organization, we rely on the support of our readers to keep us running! Keep MRCTV going with your gift here!