Regardless of whatever side of whatever argument someone is on, what's wrong with people? Obviously, I'm personally pro-life, but pro-abortion people are entitled to their opinions. However, my problem is with these "activists" who feel they need to make some insane scene masquerading a "grand gesture."
Pro-abortion activist and abortion pill advocate Jex Blackmore, who is or was allegedly pregnant at the time of a recent interview she did with Fox 2 - Detroit, decided it would be a great idea to take an abortion pill live on air.
The anchor of the segment was in such disbelief that he asked whether Blackmore was pregnant.
"You're not pregnant, are you?" host Charlie Langton asked.
"I would say that this is going to end a pregnancy," Blackmore responded with a smile. "This would be my third abortion."
Just take a look at the segment. Absolute insanity:
Did anyone else notice that this chick had a pentagram drawn in the inside of her hand? It probably goes part and parcel with the fact that she was "the founder of the Detroit chapter of The Satanic Temple (TST)," according to the Daily Mail.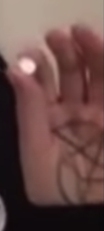 That explains a lot.
We don't know for sure whether Blackmore was actually pregnant during this segment or if she did what she did for theater, while proving some kind of demented point. 
H/T: Louder with Crowder