Sunday's 65th Annual Grammy Awards on CBS was a woke, weird mess with a surprising lack of opinions on U.S. politics. 
As you may remember, when it came Donald Trump's presidency, clueless celebrities typically had something negative to say whenever they were given a platform to do it.
But when it comes to President Joe Biden, he seems to get a pass, despite the challenges our country is facing under his administration.
If you watched the show and didn't know anything about American politics, you wouldn't even know he was president, as he was not mentioned by name even once.
In contrast, comedian Trevor Noah (who hosted the show for the third year in a row) could not resist the opportunity to make a cheap joke at Trump's expense within the first 10 minutes of the show.
Trevor Noah: Give it up for Bad Bunny, everybody! Wow! [ Applause ] Wow, that was incredible! Absolutely incredible. You know, every time I listen to him, I get hips I never knew I had. It makes Trump want to learn Spanish.
The joke was in response to Puerto Rican rapper Bad Bunny's all-Spanish opening act. There wasn't one English word sung or said by Bad Bunny during the entire opening act, not one! If you were channel surfing and landed on this show, you may have thought you were watching the Latin Grammys.
Noah went on to crack a joke about inflation while introducing singer Jennifer Lopez ––  saying "even with inflation, her love don't cost a thing," which was a reference to one of her hit songs from 15-20 years ago.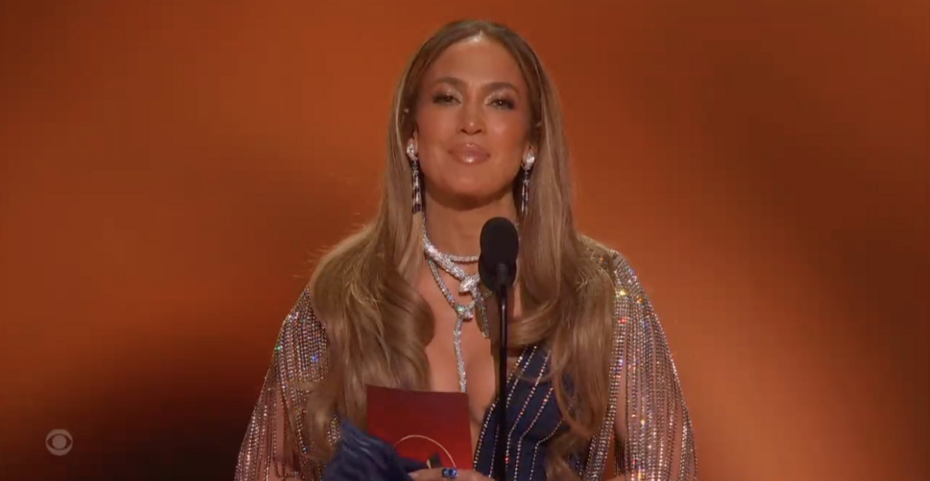 The comedian also asked singer Taylor Swift if her fans could take on soaring egg prices, like they did Ticketmaster. 
Trevor Noah: I've got to tell you, Taylor, you have the best fans in the world. I mean, what they did with Ticketmaster, what they might do for artists all over the world, what they might do for fans who want to go to concerts is amazing. I'm just wondering once they're done with this, can you get them to handle the price of eggs? 

Taylor Swift: There's really nothing that they can't accomplish. They'll get on it. Just let them know what you need. 

Trevor Noah: Swifties, price of eggs down. You go after those chickens. 
Does Swift even known how much a carton of eggs costs these days? According to Forbes, the singer has a net worth estimated at more than $500 Million dollars–– the price of eggs probably isn't a top concern for her. 
Now, a Hollywood awards show wouldn't be complete without a creepy, satanic themed performance, right?!
Singers Sam Smith and Kim Petras performed 'Unholy' on stage with a Hell-inspired  background, filled with tall flames, cages, devil costumes and Smith even sported a satanic top hat.
Petras also apparently made history as the 'first trans woman' to win a Grammy for best pop duo/group performance.
Kim Petras is the first transgender woman to win the #Grammy for best pop duo and group performance. https://t.co/OcVu0Ex2k3 pic.twitter.com/Dtz9hyrcMP

— Variety (@Variety) February 6, 2023
And towards the end of the 3-plus hour show, First Lady Jill Biden hit the stage to present the Grammy song of the year, this despite President Biden not being mentioned by name one time during the entire awards show.
The First Lady also didn't bother to mention him.
Trevor Noah: Welcome back to music's biggest night. This next presenter is the only person in the world who knows which of tonight's songs the president sings in the shower. My money's on "About damn time." Ladies and gentlemen, the First Lady of the United States, Jill Biden. [ Applause ] 

Jill Biden: Thank you. Thank you very much. Thank you. A song can unite, inspire, and ultimately change the world. 
Beginning this year, the recording academy is presenting a new award recognizing a song that responds to the social issues of our time, and has the potential for positive global impact. More than 130,000 people have responded with submissions of songs that promote awareness, raise consciousness, and inspire change. The winner of this special award was selected by a blue ribbon committee and ratified by the recording academy board of trustees.

Tonight, I am honored to announce the first winner of the recording academy's best song for social change. Shervin hajipour, an Iranian singer-songwriter for his stirring song "Baraye." This song became the anthem of the Mahsa Amini protests, a powerful and poetic call for freedom and women's rights. 
To be frank, it was a good thing that we didn't have to listen to celebrities blab on about politics during the awards show, that's how it should be. With that being said, you can't help but notice how quiet liberal Hollywood is now that the person most of them publicly supported is in charge. 
According to 'The Hollywood Reporter,' last year's Grammys 'narrowly avoided setting a second straight all-time ratings low.' 
So the question now is: will there be an uptick in viewers for the Grammys, or are everyday Americans tired of the woke elite lecturing us, while patting themselves on the back for several hours? 
We will be keeping an eye out for the ratings announcement.