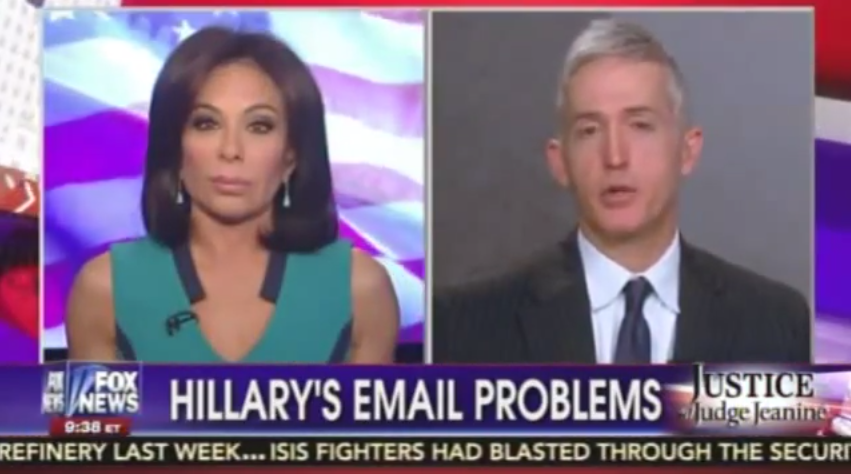 In a recent appearance on Fox News's Justice, Rep. Trey Gowdy (R-S.C.) said that he wants to get to the bottom of the Hillary Clinton private email scandal, but without "the legal drama."
A member of the House Oversight Committee, Gowdy argued that holding Clinton in contempt or taking her to court would simply waste precious time. He added that doing so would just discourage the current U.S. Attorney General from taking the proper steps to investigate and prosecute Clinton, citing the case (or lack thereof) of former IRS director Lois Lerner as an example.
"The House as a whole may get to the point where it does subpoena the server. But you have to keep in mind, Judge [Jeanine], the power of subpoena is only as good as the power to compel," he said.
"You're not going to hold her in contempt. That's what you're saying?" Judge Jeanine asked.
"Well, what happens in the past when we hold people in contempt?" Gowdy replied. "If you refer to the U.S. Attorney of the District of Columbia, he won't even prosecute Lois Lerner, which is a pretty clear case to me."
"I don't want the legal drama," Gowdy said.
He went on to mention how, instead of taking the former Secretary of State and potential 2016 Democrat presidential nominee to court, he would rather be "uncharacteristically courteous and give [Clinton] an extra two weeks" to voluntarily hand over the information.
"If I can be uncharacteristically courteous and give her an extra two weeks and get what I want, I would rather do that than go through the drama of a floor fight when I know — with Fast and Furious and the IRS and all these other investigations — we wind up in court and it's three years before the judge decides to give us an answer and people have lost interest and their attention has moved on to something else," Gowdy said.
"I want the information," he concluded. "I don't want the theatrics and the drama."
Whether Clinton will appear before the House Oversight Committee on May 1 remains to be seen. 
For Rep. Gowdy's full remarks, check out the video below.