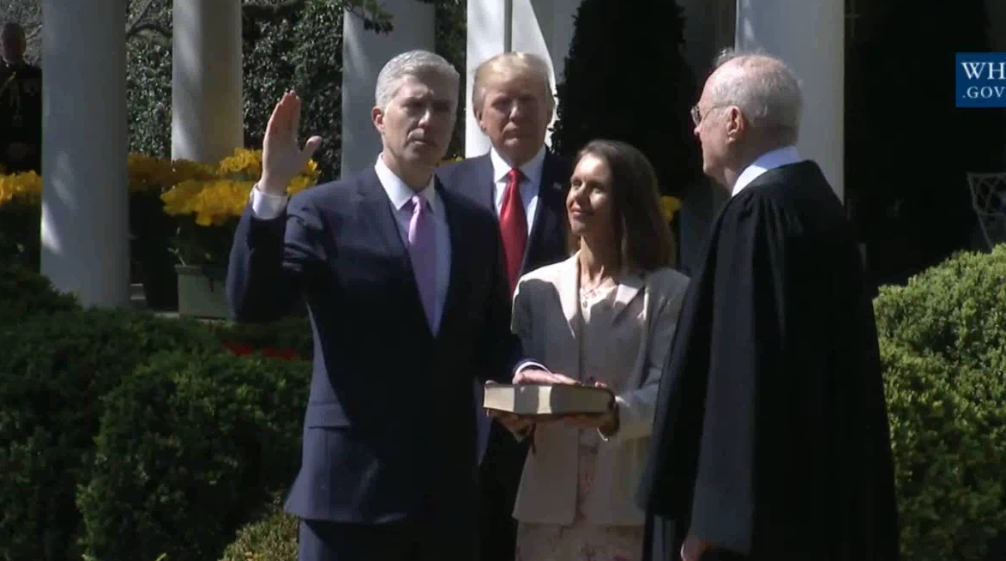 Neil Gorsuch was officially sworn in as the 113th Supreme Court Justice of the United States Monday morning.
During the public ceremony in the Rose Garden, President Trump said, "I've always heard that the most important thing that a President of the United States does is appoint people -- hopefully, great people like this appointment -- to the United States Supreme Court, and I can say this is a great honor."
"And I got it done in the first 100 days, that's even nice! You think that's easy?" Trump joked.
Trump described Gorsuch as a man who, like the late Justice Antonin Scalia, will be a "devoted servant of the law."
After being sworn in, Gorsuch thanked his family and supporters, and said, "To the Scalia family, I won't ever forget that the seat I inherit today was that of a very, very great man."
"And to the American people," Gorsuch said, "I am humbled by the trust placed in me today. I will never forget that to whom much is given, much will be expected. And I promise you that I will do all my powers permit, to be a faithful servant of the constitution and laws of this great nation."
Gorsuch was confirmed to the Supreme Court by a 54-45 vote after Republicans changed the rules of the Senate to confirm Supreme Court nominees.
Check out Gorsuch's swearing-in below:
Thank you for supporting MRCTV! As a tax-deductible, charitable organization, we rely on the support of our readers to keep us running! Keep MRCTV going with your gift here!