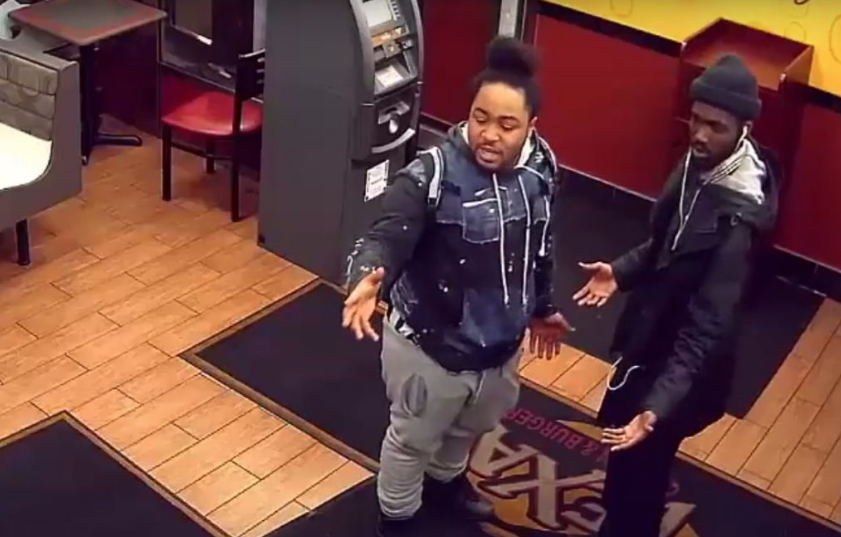 (Image: Screenshot/YouTube)
There's scum of the Earth, and, below that, there's these two thugs.
A Good Samaritan was senselessly beaten and bloodied by two men who were clearly looking for trouble of the inexplicable variety.
Two men entered the Texas Chicken & Burgers restaurant in Brooklyn on March 1 and proceeded to loudly complain that no one would give them a dollar. When a 37-year-old Good Samaritan offered to pay for their meal, the two men got angry.
"I've got money, I've got money," the wannabe tough guys shouted at the man. "Mind your f—-ing business!"
The two men went on to senselessly punch the man and beat him with his own cane. Astonishingly, two more men joined the other two idiots and began punching and kicking the man in the head and body.
Even worse, restaurant employees and the other customers did absolutely nothing. In fact, customers actually kept stepping over the beaten man, who was reportedly "twitching" on the floor, until the police arrived. According to the Daily News, another customer even rifled through the unconscious victim's pockets, helping himself to whatever he found.
This cowardly neighborhood is one you shouldn't look to live in, because from the sound of it, no one cares about their neighbor.
The Daily News is reporting that the beaten man is currently in stable condition, but is suffering from "broken bones, including his nose, and cuts and bruises."
To no one's surprise, the Daily News wrote that employees of the restaurant declined to comment.
Pretty convenient, considering they also declined to help the man even after his attackers left.
According to The Blaze:
The incident occurred around 7:30 p.m. March 1 at the Texas Chicken & Burgers on Ocean Avenue at Church Avenue in Prospect Park South, the Daily News said, adding that police released video of the incident Tuesday. It isn't clear why the date on the video time stamp is different from what police told the paper.
The picture of these two wastes of space is at the top of the article. Anyone with information can call Crime Stoppers at (800) 577-8477.