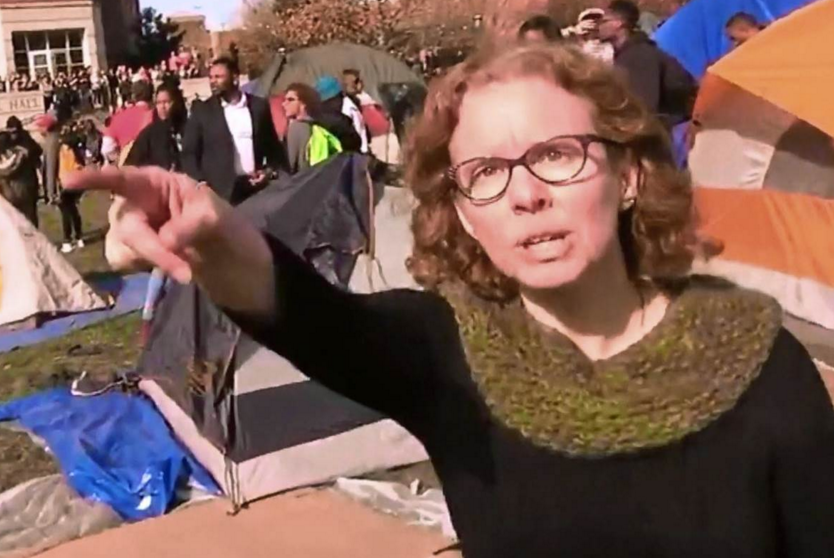 A GoFundMe page in support of former University of Missouri mass media professor Melissa Click, who was caught on camera threatening a student journalist last year, has accumulated nearly $14,000 in donations.
During the racial protests that besieged Mizzou's campus during the fall 2015 term, Click was caught asking for "muscle" to prevent a student journalist from reporting on a #ConcernedStudent1950 protest.
After the incident went viral, MU launched an investigation into Click's actions.
Click resigned from her courtesy position in MU's renowned journalism school and was eventually fired from the university.
The "Stand with Melissa" GoFundMe page, created by Nina Huntemann, was started to help Click offset her legal costs associated with suing MU.
Huntemann claims the "politically and racially-motivated anger of Missouri legislators, the Board of Curators, and the MU chancellor" denied Click her due process and unjustly fired her.
According to Huntemann, Click needs approximately $25,000 to keep an employment lawyer on retainer and pay for legal costs over the next few years.
"The past four months are taking a severe toll on our friend. She has endured blow-after-blow and now has to make some very difficult decisions," the GoFundMePage reads.
The GoFundMe page encourages people to donate a "recurring gift" to Click, as she is facing "very real challenges of unemployment" and needs "material support to secure herself and her family."
The cause has received support from 136 donors since it was launched on Feb. 17.
The current goal is to raise $38,000.
Click has since accused the school of firing her because she is white.
In an interview with the Chronicle of Higher Education, Click reportedly said she was an "easy target" because she's a "white lady."