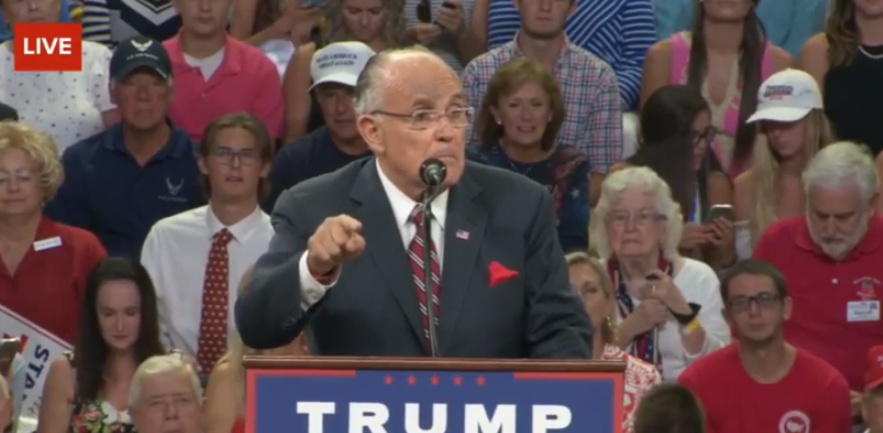 (Image via Screenshot)
Former New York City mayor Rudy Giuliani made an appearance at a Donald Trump rally in North Carolina on Tuesday.
During his remarks, Giuliani slammed the 50 senior GOP national security officials who signed a letter declaring that the Republican presidential nominee "lacks the character, values and experience" to be president and "would put at risk our country's national security and well-being."
"We want to kick out of Washington all of those insiders who have been controlling the government for their benefit and have been hurting you for years," he said of the signees. "It's a tight little crowd in Washington… And they protect each other, and they don't care about you. They care about themselves."
"We need somebody to come in with a broom and clean the damn place out," said Giuliani, referring to Trump as the man to get the job done. "Clean it out!"
"No one owns Donald Trump," he added. "He wants to be your voice in Washington because you don't have a voice."
Mr. Trump issued a similar response in a statement released by his campaign on Monday, thanking the signees for "coming forward so everyone in the country who deserves the blame for making the world such a dangerous place."
"They are nothing more than the failed Washington elite looking to hold onto their power, and it's time they are held accountable for their actions," he fired.
Check out Giuliani's speech below.