In honor of Pride Month, the 111-year-old Girl Scouts organization has gone woke yet again, this year offering a special patch for girls to iron on their vests and sashes for scouts who complete "a series of LGBT-themed activities," as the Daily Caller pointed out. 
The group posted a graphic on June 1 to its Facebook page celebrating "Pride Month." The caption stated, "Happy #PrideMonth to all the amazing Girl Scouts in our community!  We celebrate and embrace our unique differences because that's what makes us beautiful. Share how you're celebrating this special month, and don't forget to unlock your next patch too!"
The patch features a rainbow trapezoid type shape that states "I'm a Girl Scout" in the center with "LGBTQ+ Pride Month" printed at the bottom.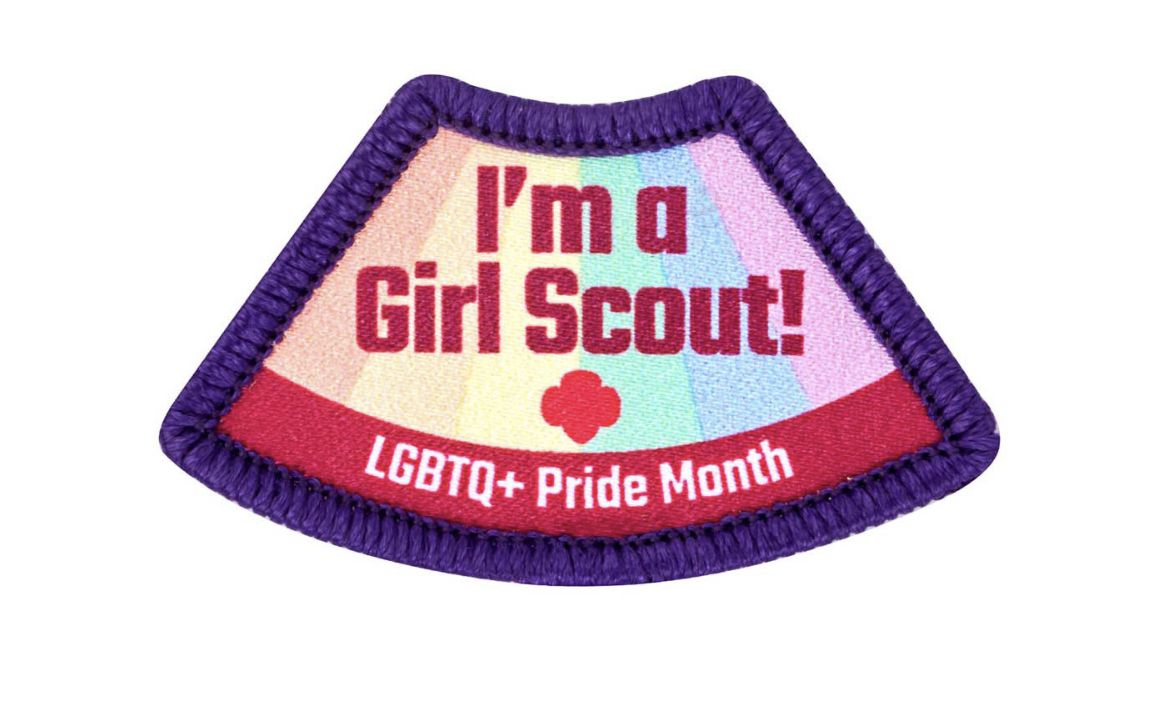 The patch can reportedly be earned through any of 20 activities listed on the group's website that troop leaders can assign. Here are just a few:
Make a music playlist featuring 12 LGBTQ+ artists. Talk about which songs you like the most
Visit the National Women's History Museum website and read about LGBTQ historical figures and how they advocated for their community in the larger gay movement. Share what you learned with your troop or family.
Have a watch party with your family or troop of New York University's Stonewall at 50 documentary , currently streaming for free on YouTube. Discuss what you learned and felt with your group
Attend an LGBTQ+ Pride celebration in June with your family or troop
The Girl Scouts group of Eastern Massachusetts posted on social media that their scouts had participated in a Pride parade where they held and waved rainbow-printed flags and banners. The caption for the post stated, "At Girl Scouts of Eastern Massachusetts, we center diversity, belonging, and inclusion by welcoming everyone who identifies as a girl, transgender boys, non-binary youth members, and adults of all genders. This month and every month, we are proud to stand in support of our LGBTQIA+ Girl Scouts and community members who continue to face hate, discrimination, and violence for living as they are."
Related: 'Queer' Book For Students: Rubbing 'Private Parts' On 'Ankles' & How To Clean Sex Toys
In response to the targeted attack on young Girl Scouts, people who actually care bout children fumed on Twitter. 
Vivek Ramaswamy, who's currently running for the Republican presidential nomination, stated, "Affirming" a kid's confusion isn't compassion. It's cruelty. Trans is a mental health illness and should be treated as such. Protect our kids."
One user stated, "Just a matter of time till they'll be going door-to-door selling Girl Scout strap-ons!-("
While that seems barbaric, it doesn't seem that it would be that far off from the woke mob.
Another insisted, "Never forget they're coming for your kids."
The Girl Scouts organization claims they strive to build "girls of courage, confidence, and character, who make the world a better place." I don't think that forcing girls to affirm people' sexual orientations and walk in "Pride" parades is a way to build their courage, and judging by the extreme profanities and displays of perversion displayed throughout today's "Pride" events, I don't think these young kids will be learning how to "make the world a better place."
This is all just part of a charade to target young, impressionable kids and create an army of confused people to parrot woke propaganda. Get your kids out of Girl Scouts.
Follow us on Twitter:
Even far-left Canadian PM Trudeau struggles with the "LGBT..." alphabet soup. pic.twitter.com/T97zfz22IE

— MRCTV (@mrctv) June 8, 2023