After massive backlash from leftists, the Girl Scouts of America have deleted their tweet congratulating newly confirmed SCOTUS Justice Amy Coney Barrett on being only the fifth woman appointed to the nation's highest court.
"Congratulations Amy Coney Barrett on becoming the 5th woman appointed to the Supreme Court since its inception in 1789," the Girl Scouts had posted, along with a high-five emoji and a collage of all the women who've sat on the SCOTUS bench so far – including ACB and Ruth Bader Ginsburg, whose vacant seat she filled.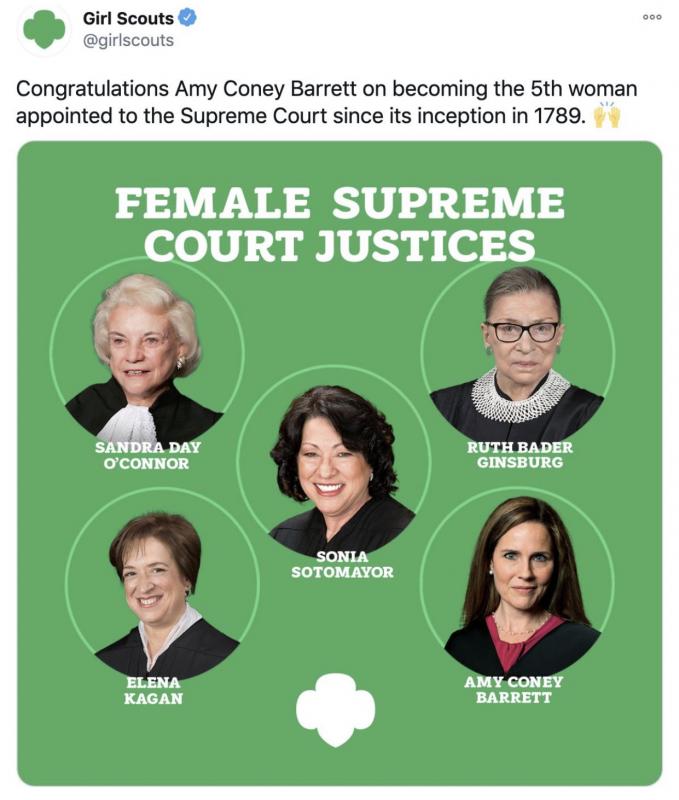 The tweet, of course, was immediately met with outrage from rabid leftists, who accused the Girl Scouts of supporting a woman who doesn't support "women's rights" – i.e., the "right" to murder a child in the womb.
In response, the Girl Scouts deleted the tweet and added an apology of sorts.
"Earlier today, we shared a post highlighting the five women who have been appointed to the Supreme Court. It was quickly viewed as a political and partisan statement which was not our intent and we have removed the post," the organization posted.
"Girl Scouts of the USA is a nonpolitical, nonpartisan organization. We are neither red nor blue, but Girl Scout GREEN. We are here to lift up girls and women," they added.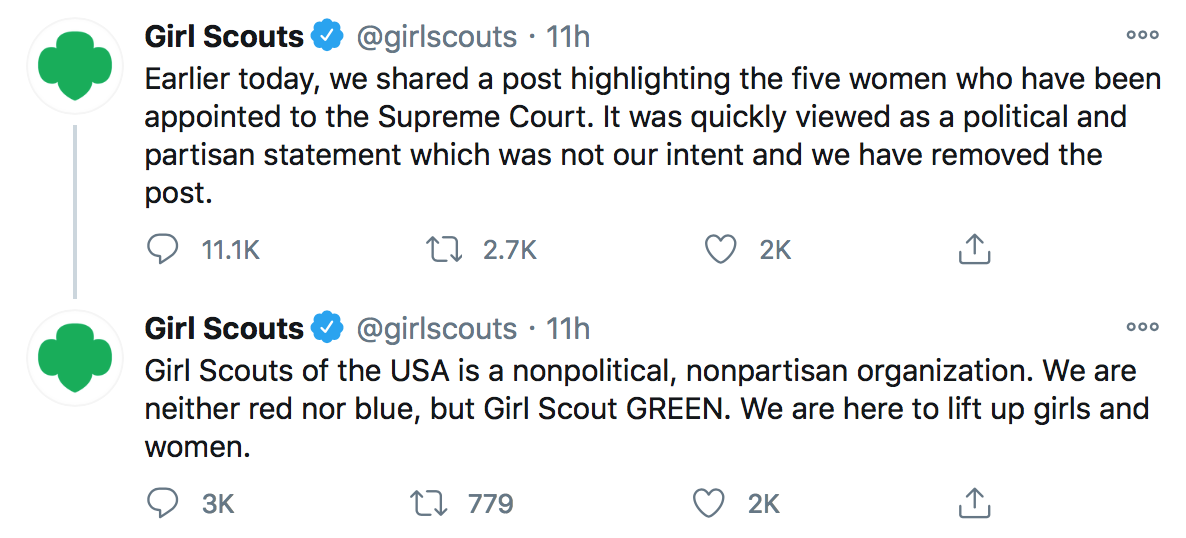 It's notable, though, that a 2019 tweet from the Girl Scouts praising the other four female SCOTUS justices, three liberals and one very moderate conservative, as "inspiring role models worth honoring" remains up.
 
Sandra Day O'Connor, Ruth Bader Ginsburg, Elena Kagan, and Sonia Sotomayor broke gender barriers in the nation's highest court, but that's only part of what makes them inspiring role models worth honoring: https://t.co/MsdnJmG9uT #WHM2019 #GIRLagenda #WHM2019 pic.twitter.com/HdTxkbevHz

— Girl Scouts (@girlscouts) March 27, 2019
(Cover Photo: Rona Proudfoot)