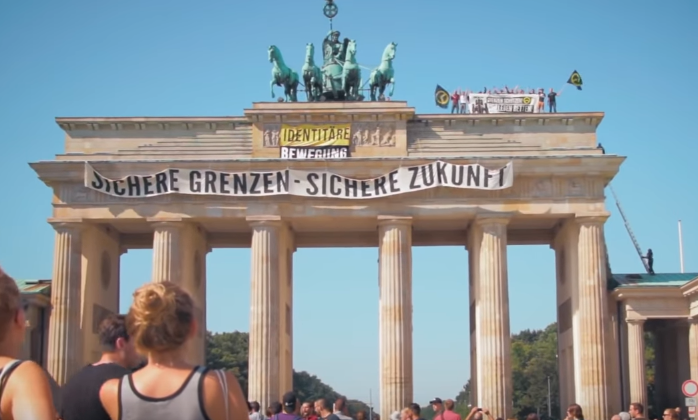 (Image: Screenshot/YouTube)
Much like the Swedish government, a German youth group has had enough of the mass migration of mostly Muslim refugees flooding into their country. But while the Swedes began to change their mind for financial reasons, the German youth group is standing up to keep Germany, well, German.
According to Reuters:
Members of the far-right Identitarian Movement scaled Berlin's Brandenburg Gate on Saturday and unfurled a banner to protest against the "Islamisation" of Germany via mass immigration.

More than a million people, many of them Muslims, flocked to Germany last year from the Middle East, Africa and elsewhere. The IAB German labor office research institute says around 16,000 are still arriving per month.

Around 15 protesters spent about 50 minutes on top of the Brandenburg Gate, a short walk from the German parliament, before coming down, a spokesman for Berlin's police force said.

They hung a banner calling for "secure borders - secure future" from the structure and waved flags bearing the Identitarian Movement's black and yellow logo.
The Identitarian Movement has been around since 2002, but has seen growing support in the last few years under the Angela Merkel-led, government-induced takeover of Germany. Germany has seen more than one million migrants enter their country in 2015 alone.
Members of the European Union (EU) have called for more migrants to be relocated to Germany, and they see absolutely no problem with it.
Italy's Interior Minister Angelino Alfano said this August 23:
"We must remember that Germany already took in more than one million migrants in 2015. If it also takes in some of our (refugees) ... the message will be extremely strong, because if Germany can do it, then so can all those who have not put in the huge effort that Germany already has."
Basically, Alfano is shaming other European countries that have not taken in nearly as many refugees as Germany. How dare indigenous citizens of their respective European country show pride in being who they are?!
While the Identitarian movement may strike some as similar to Germany circa 1936, the movement itself released a powerful video of what they're about back in January.
Whether it's protesting atop the Brandenburg Gate or filming a video to state their frustrations, people in Europe are finally beginning to question the so-called tolerance and outright disregard for the law that the European Union and its member countries' leaders attempt to indoctrinate them with.