The values and morals German parents teach their kids at home may be countered by leftist instructors at their children's schools.
With the support of the German Federal Government, a new booklet teaching kindergarten teachers how to "recognize and counter racist and xenophobic ideas in children's minds" has been published in an effort to "make early childhood education democratic." 
In the 60-page brochure, Federal Minister of Family Affairs Franziska Giffey writes, "'We are experiencing (...) a significant increase in right-wing populist movements.' Therefore, it was 'important to make early childhood education democratic (…),'" according to BZ-Berlin.de.
The booklet, published by the Amadeu-Antonio Foundation, opposes the "right-wing" mindset and doesn't address any left-wing problems.
Parents have expressed their concern that the brochure "goes too far."
As Life Site News reports,
Many Germans are protesting the brochure, calling it unacceptable for the state to intrude into the lives of families. Some have noted how such an intrusion is similar to what had been previously known in Germany during the times of both National-Socialist (Nazi) and Communist dictatorships.
When the government starts forcing its way into the minds of children, tearing away the teachings of their parents, it's clear it's gone too far. As the author, Gunnar Schupelius of BZ, writes, "It is not the task of the state and kindergartens to examine and correct the way of life of their parents. Freedom of expression must be as sacred as privacy."
Nadine Schon, the vice group chairman of the Christian Democratic Union in the Lower Parliament, expressed her disdain in a tweet, saying, "Educators should look after our children, educate them and communicate values, but they should not check and correct the political attitudes of their parents. The booklet contains absurd suggestions. Please stamp [sic?] immediately!"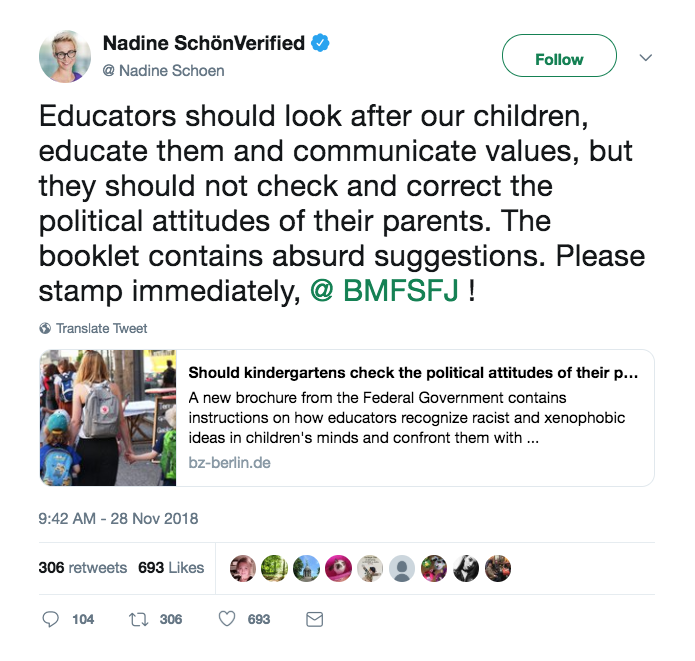 Governments love to push the privacy lines of the people they claim to protect and once they see the people will allow them to cross those lines, they keep on pushing.