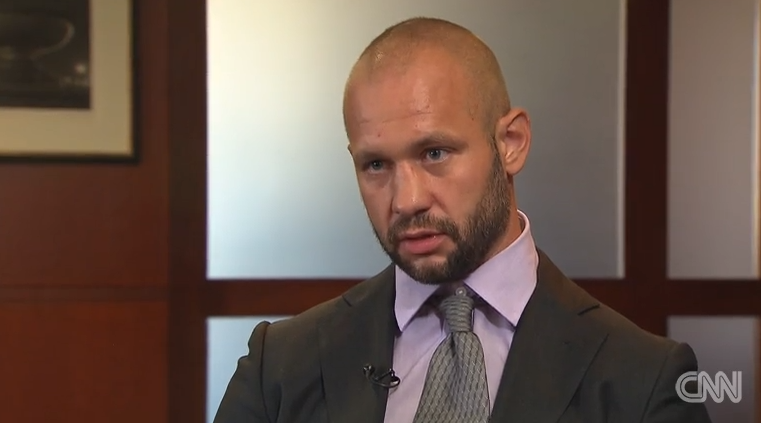 (Image via Screenshot)
George Washington University has hired a former Al-Qaeda recruiter and propagandist to work as a Research Fellow at its Center for Cyber & Homeland Security.
Seamus Hughes, Deputy Director of the Program on Extremism at the center, told CNN that Jesse Morton, formerly known as Younus Abdullah Muhammad, brings a "unique perspective" to counter-terrorism work and could help "reach that individual who's going down the path of radicalization."
"We haven't figured out how to reach that individual who's going down the path of radicalization," Hughes said. "Jesse has been in that world and got out of that world."
He told CNN that the decision to hire Morton involved talks with the FBI, leaders in the security community, and the lawyers that prosecuted Morton from 2011 to 2012.
Hughes added that Morton is a new man, reformed after his time in federal prison.
"I trust him," he said. "We did our due diligence."
Morton knows that he needs to gain the trust of the university and the American people. 
"This is an opportunity for me to make amends, to some degree," he told CNN. "I realize that I was completely wrong in my perspectives."
"I suffer from a tremendous amount of guilt," Morton added. "I have seen things that people have done and to know that I once sympathized and supported that view -- it sickens me."
His biography on the GW website describes Morton as "a reformed, former extremist who was once a prominent radicalizer in the West."
"As a cofounder and chief propagandist of Revolution Muslim, a New York City-based group active in the 2000s, he helped to insert the narrative of Al-Qaeda and Salafi-jihadist ideology into the American ambit," the biography reads. "After his incarceration in 2011, Morton de-radicalized, and today he rejects Salafi jihadi and Islamist ideology."
"As a research fellow at the Program on Extremism, Morton focuses on issues such as the propaganda of terrorist organizations, Islamic and jihadist ideology, countering radicalization and extremism and promoting disengagement," writes GW. "He considers this work an opportunity to repair some of the damage caused by his radicalization."
Morton, 37, was arrested by the FBI in 2011 in connection to the "South Park" threats, charged with encouraging violence against the show's creators Matt Stone and Trey Parker for an episode that featured the Muslim prophet Muhammed dressed as a bear.
He was sentenced in 2012 to 11 years or more in prison but was released in February 2015 after less than three years behind bars.