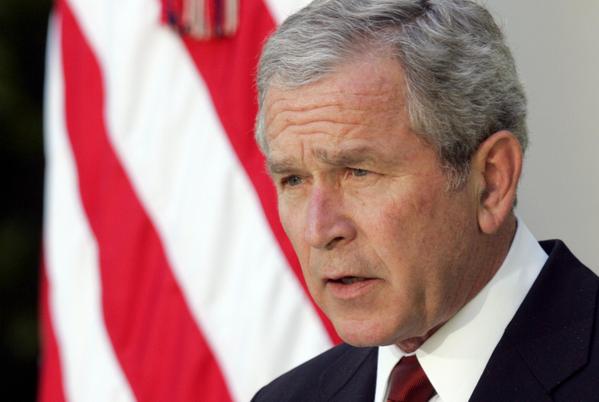 During a gathering with hundreds of Jewish donors in Las Vegas on Saturday night, former President George W. Bush broke his silence on the Obama administration's foreign policy in the Middle East.
Bush criticized his successor in the White House as naïve for considering lifting nuclear sanctions against Iran, and for causing the U.S. to "retreat" around the world by withdrawing troops from Iraq.
While Iran does have a new president, Hassan Rouhani, Bush noted, the Obama administration should remain weary of Iran's nuclear intentions.
"He's smooth," he told Republican Jewish Coalition spring meeting attendees. "You've got to ask yourself, is there a new policy or did they just change the spokesman?" 
"You think the Middle East is chaotic now?" Bush asked. "Imagine what it looks like for our grandchildren."
"That's how Americans should view the deal," he argued.
Bush suggested that the U.S. take caution against relaxing sanctions on Tehran, as doing so would risk losing significant leverage over a country known for its disdain toward the American people.
The former President added that Obama needs to follow through with his promises if the U.S. is to be taken seriously on the international stage in its battle with the Islamic State. Obama promised to degrade and ultimately destroy Islamic State forces, yet the plans to do so remain unclear and ineffective, Bush said. 
"In order to be an effective president ... when you say something you have to mean it," he said. "You gotta kill em."
For more on George W. Bush's remarks, check out the Fox News report below.