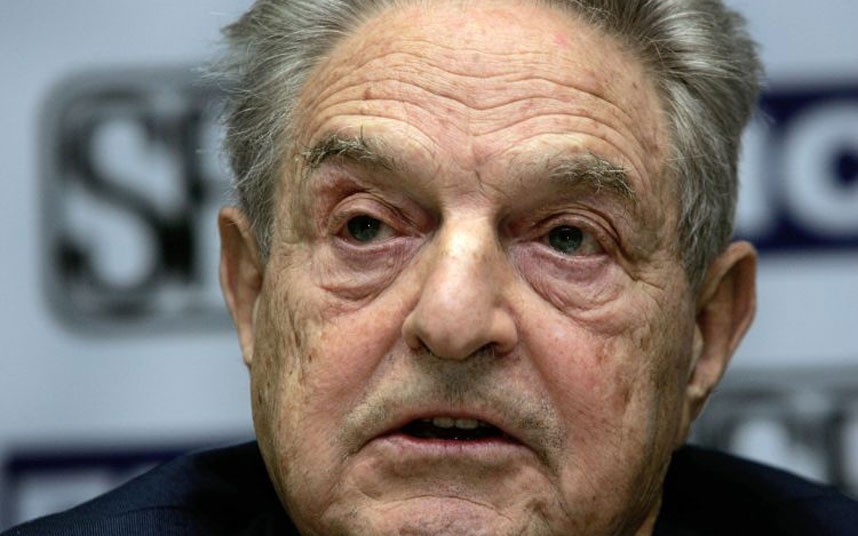 George Soros is a big advocate for higher taxes for the rich and redistribution of income. However, a report in Bloomberg indicates the multi-billionaire used tax-loopholes to defer tax payments and, by investing that money, earned over 46% of his net worth. But, now as the loophole is closing, Soros may owe at least $6.7 billion in taxes.
Congress closed the loophole in 2008 and ordered hedge fund managers who used it to pay the accumulated taxes by 2017. A New York-based money manager such as Soros would be subject to a federal rate of 39.6 percent, combined state and city levies totaling 12 percent, and an additional 3.8 percent tax on investment income to pay for Obamacare, according to Andrew Needham, a tax partner at Cravath, Swaine & Moore. Applying those rates to Soros's deferred income would create a tax bill of $6.7 billion. That calculation is based on publicly available information such as the Irish regulatory filings, which provide only a partial glimpse into Soros's finances. The actual tax bill would be affected by factors specific to the billionaire. Soros declined to comment, according to Michael Vachon, a spokesman, as did Anthony Burke, an IRS spokesman.

Just before Congress closed the loophole, Soros transferred assets to Ireland—a country seen by some at the time as a possible refuge from the law. The filings show for the first time the extent to which Soros's almost $30 billion fortune—he ranks 23rd on the Bloomberg Billionaires Index—came from finding ways to delay taxes and reinvesting the money in his fund.
According to the report, Soros whose net worth is approximately $28.8 billion, made $13.3 billion of that total (46% of his net worth) by investing the money from his deferred tax bill. In other words, the billionaire who believes America's wealthy should pay higher taxes made almost half of his fortune by not paying his taxes. 
When Warren Buffett announced he urged the President to raise taxes rates on the wealthy (the Buffett tax), George Soros was quick to agree.
"George Soros says he agrees and congratulates Warren Buffett," his spokesman said. "The rich are hurting their own long term interests by their opposition to paying more taxes."
In 2012, George Soros joined Warren Buffet and other billionaires to request a significant increase in estate taxes, higher than what was requested by the president.
During the 2014 election season, George Soros spent $3,763,400 of his personal money on Democratic candidates, the majority of whom support higher taxes for the wealthy, and that doesn't include another $1.7 million from his son, or other monies from groups he funds such as Center for American Progress, The Democracy Alliance and MoveOn. It seems a bit hypocritical to support politicians who support higher taxes while deferring his tax bill to increase his net worth by over $13 billion.