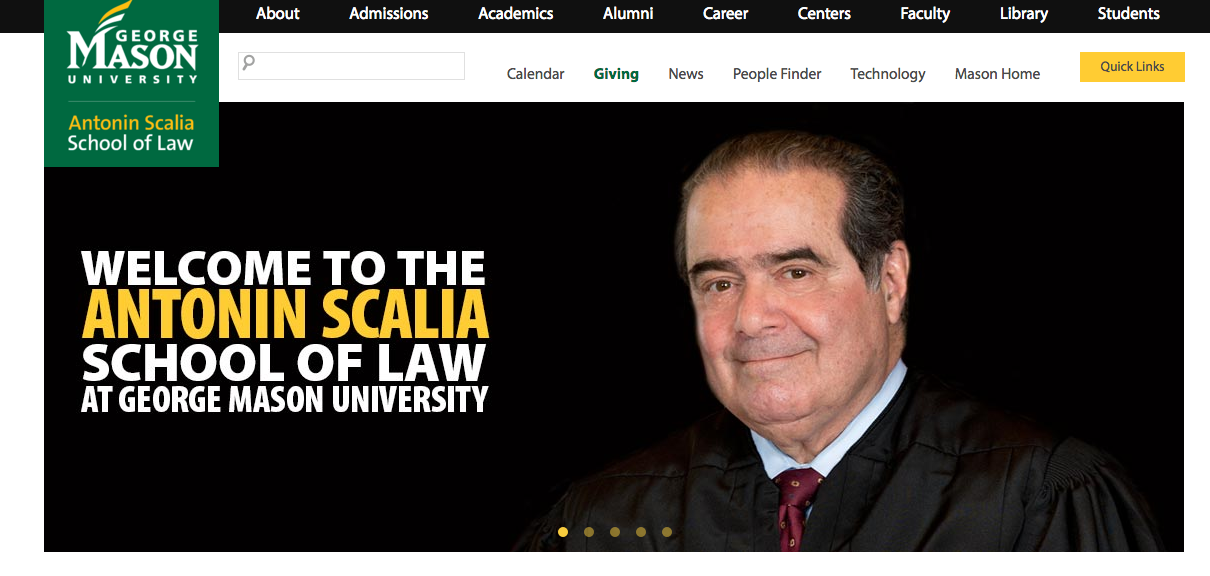 (Image source: GMU)
George Mason University School of Law will be changing its name to honor the late U.S. Supreme Court Justice Antonin Scalia.
GMU President Angel Cabrera confirmed the law school will be renamed the "Antonin Scalia School of Law at George Mason University" in an email obtained by MRCTV.
In the email, Cabrera highlights Scalia's relationship with Justice Ruth Bader Ginsburg.  He writes, "Justice Scalia was an advocate of vigorous debate and enjoyed thoughtful conversations with those he disagreed with."
Cabrera states, "That ability to listen and engage with others, despite having contrasting opinions or perspectives, is indeed at the heart of what higher education is all about."
Cabrera notes the name change is the result of an agreement to receive $30 million in gifts, including $20 million from an anonymous donor and a "$10 million matching gift from the Charles Koch Foundation."
GMU's press release on the name change mentions the gift will be used to establish three scholarships: the "Antonin Scalia Scholarship," the "A. Linwood Holton, Jr. Leadership Scholarship," and the "F.A. Hayek Law, Legislation, and Liberty Scholarship."
The gifts are reportedly "the largest in university history."
MRCTV Reader,
The liberal media are terrified of the truth, especially when it leads to uncomfortable questions about their own leftist worldview.
MRCTV is the multimedia division of MRC featuring original content and aggregated videos of the news, people, and events conservatives care about.
MRCTV relies on the support of our loyal readers (and video viewers) to keep providing the news and commentary that matter to the American people, not just stories that prop up the liberal agenda.
Make a donation today. Just $15 a month would make a tremendous impact and enable us to keeping shining the light where the liberal media are afraid to tread.
— The MRCTV Team
DONATE
Connect
Sign up for our MRCTV newsletter to receive the latest news.
Sponsored Links