A bit of depressing news ahead of this year's Fourth of July, a record-low of U.S. adults say they're "extremely proud" to be American.
In a new Gallup survey of 1,520 adults conducted June 1-13, just 47 percent say they feel "extremely proud," a four percent drop from 51 percent in 2017 and the first time in Gallup's 18-year history of asking the question that there was less than a majority.
On a more optimistic note, most Americans are at least somewhat proud:
"While the 47% who are extremely proud to be Americans is a new low, the vast majority of Americans do express some level of pride, including 25% who say they are 'very proud' and 16% who are 'moderately proud.' That leaves one in 10 who are 'only a little' (7%) or 'not at all' proud (3%)," Gallup reports.
"The combined 72% who are extremely or very proud to be Americans is also the lowest in Gallup's trend," however.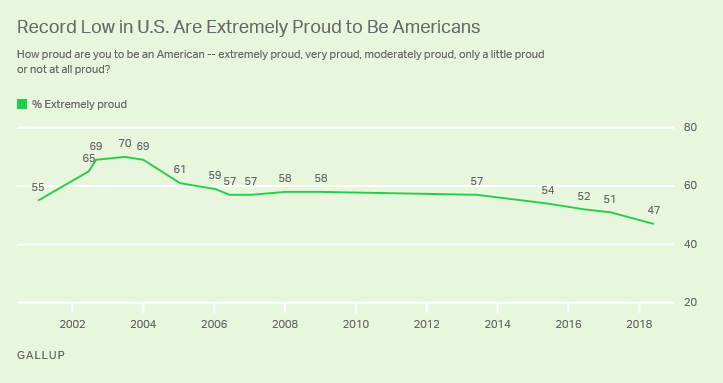 The research and analytics company began asking U.S. adults how proud they are to be American in June 2001. National pride spiked following the 9/11 terror attacks from 55 to 65 percent in 2002 and peaked at 70 percent in 2003.
This year, as America gets ready to celebrate its Independence Day, there is a clear ideological divide.
Patriotism has fallen sharply among Democrats (32%) and liberals (23%).
National pride also took a significant hit among Independents and moderates, dropping from 48 percent and 53 percent in 2017 to 42 percent and 46 percent in 2018, respectively.
Pride among Republicans, in contrast, experienced an increase, with 74 percent who say they are extremely proud, "which is numerically the highest over the last five years," Gallup writes.
The measure has remained steady among conservatives the past five years. In 2018, sixty-five percent (65%) said they are proud to be American, just a one percent drop from 2017.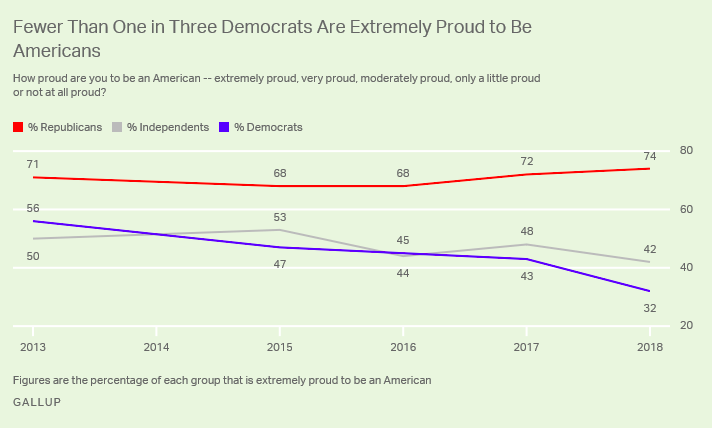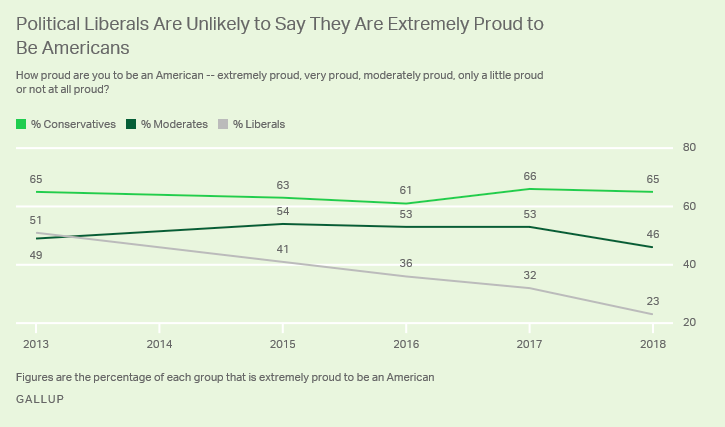 While patriotism has reached a new low, the majority of Americans are optimistic that the best days for the nation are ahead, MRCTV reported. Hopefully that translates to a boost in national pride in the years to come.