According to a new Gallup poll, the majority of American adults are still dubious regarding how well they think Trump's administration is running their country, yet their overall approval has risen 10 percentage points since last year, rising to 38%.
This increase in satisfaction is attributed to Republicans and right-leaning independents whose approval rose from 47% in 2017 to 72% currently. Approval among Democrats and left-leaning independents has remained consistently around 10%.
To put these numbers in context, this overall American approval/satisfaction rating of 38% has been more or less consistent since the 37% historical average from 2001. There was a noticeable dip in satisfaction however during 2011 when the US credit rating was slashed in response to a deal raising the federal debt limit.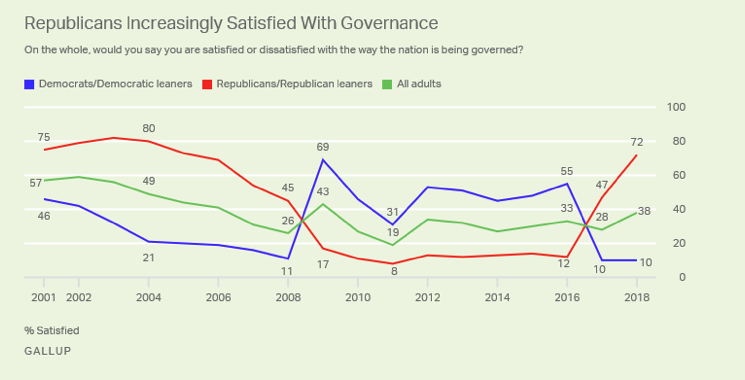 While the current GOP satisfaction level is as high as it was during George W Bush's presidency in 2005, it is still significantly lower than it was during the 82% satisfaction rating during his first term in 2003, which is an all-time high for the party as a whole.
Gallup's results are based on telephone interviews conducted in their Sept. 4 - 12 Governance poll.