According to a new Gallup poll, a majority of Americans, 53%, approve of the job the Supreme Court is doing, the highest rating since 2009. 
The latest reading on the nation's highest court follows several controversial rulings by the court last month at the end of the 2017-2018 term, as well as President Donald Trump's nomination of conservative judge Brett Kavanaugh to replace retiring Justice Anthony Kennedy.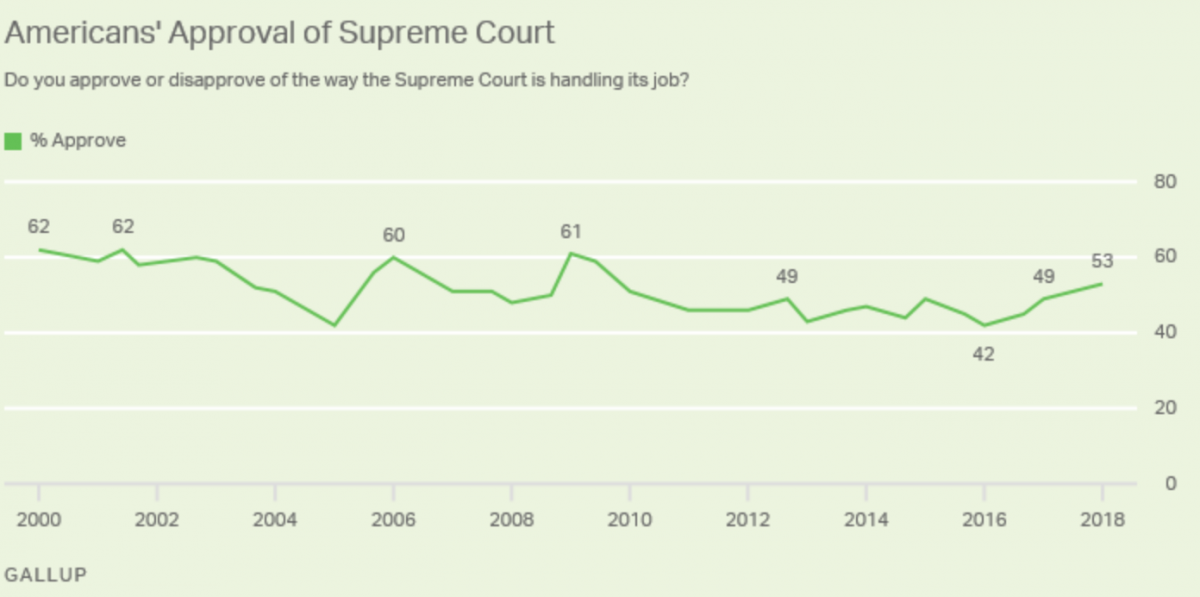 Gallup did a poll on Kavanaugh too, from July 10- 15th. Guess what? The majority of Americans want to see him confirmed as well.
By 41% to 37%, Americans want the Senate to vote for, rather than against, the confirmation of federal judge Brett Kavanaugh to the Supreme Court. 
Gallup notes that the margin is slimmer  "than any Gallup has measured in its initial read on 10 prior nominees since 1987."
Why the slim lead? With 67% of Democrats polled opposed to Kavanaugh's confirmation, Gallup claims Kavanugh faces record opposition from Democrats.
Partisanship has always been a factor in public reaction to prior nominees. However, the level of opposition to Kavanaugh's confirmation among Democrats is the highest Gallup has measured to date among those who identify with the party not holding the White House.
Someone may need to share these poll results with Sen. Chuck Schumer, who told CBS earlier this month that Kavanaugh "will repeal Roe and women's reproductive freedom, will repeal ACA (Obamacare) far past what the American people want. And when the American people learn this- they will oppose the nominee."
Or polls will show they don't oppose him.
Sorry, Chucky. Don't cry. Again.