A recent Gallup poll shows that Americans are still leaning more toward the conservative spectrum than liberal but those on the left have been narrowing the gap over the past two years. 
The poll gathers data from 2018 and shows that 35 percent of Americans are either conservative or moderate, while only 26 percent describe themselves as liberal.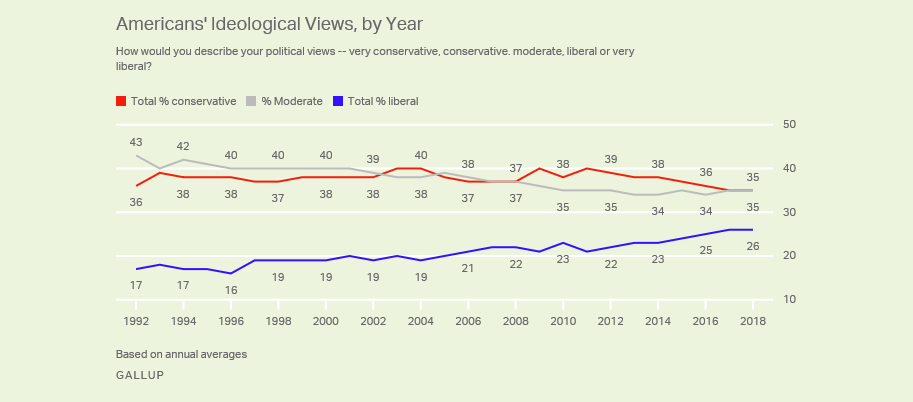 As Gallup reports, those identifying as liberal have risen from 17 percent in 1992 to 26 percent to date, while conservatives have stayed pretty consistent between 36 and 40 percent from 1993 to 2016. 
According to the poll results, demographics and partisan views play a large part: 
Among all major demographic and political categories of Americans, partisan affiliation is by far the strongest correlate with political ideology. The gap between conservatives and liberals is widest among Republicans, with a 69-point gap in favor of conservatives. This is followed by a 38-point gap in favor of liberals among Democrats.
The following chart breaks down the political ideologies of Americans by subgroup during 2018:
MRCTV Reader,
The liberal media are terrified of the truth, especially when it leads to uncomfortable questions about their own leftist worldview.
MRCTV is the multimedia division of MRC featuring original content and aggregated videos of the news, people, and events conservatives care about.
MRCTV relies on the support of our loyal readers (and video viewers) to keep providing the news and commentary that matter to the American people, not just stories that prop up the liberal agenda.
Make a donation today. Just $15 a month would make a tremendous impact and enable us to keeping shining the light where the liberal media are afraid to tread.
— The MRCTV Team
DONATE
Connect
Sign up for our MRCTV newsletter to receive the latest news.
Sponsored Links