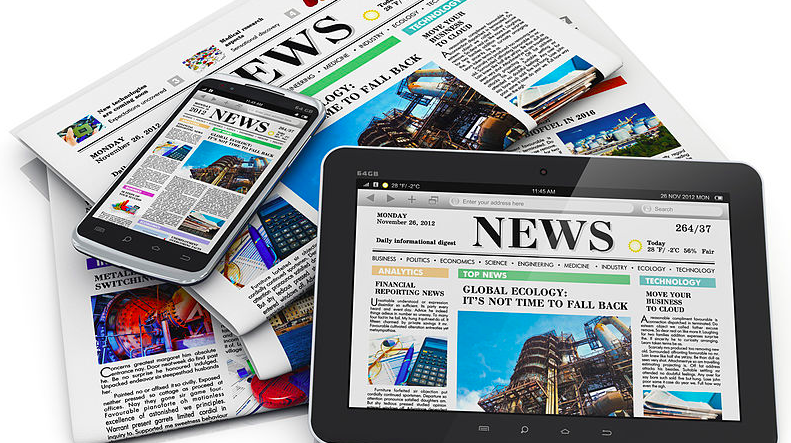 Americans view the news media as a key part of ensuring the nation's democracy, particularly its responsibility as the fourth pillar of society to keep the public informed, but they feel the media are not living up to their role, a new Knight-Gallup poll reveals.  
According to the poll results, 84 percent of Americans agree that the news media are important, with 44 percent who say the news media are "critical" to democracy and 40 percent who say they are "very important."
"At the same time, Americans are nearly twice as likely to say the media support our democracy 'very poorly' or 'poorly'(43%) as to say they support it 'very well' or 'well' (28%)," writes Gallup.
Just 27 percent of Americans say the media do an "acceptable" job at supporting U.S. democracy.

Image via Gallup
The Knight Foundation/Gallup survey on trust, media and democracy also found that less than half of Americans (44%) can name an objective news source and that a majority of Americans (73%) agree that fake news is a major problem with news coverage today.
Along partisan lines, Republicans are more likely to be critical of the news media than Democrats.
Sixty-nine percent (69%) of Republicans say the news media are doing "very poorly" or "poorly" at supporting the nation's democracy, meanwhile 50 percent of Democrats say the media are doing "very well" or "well."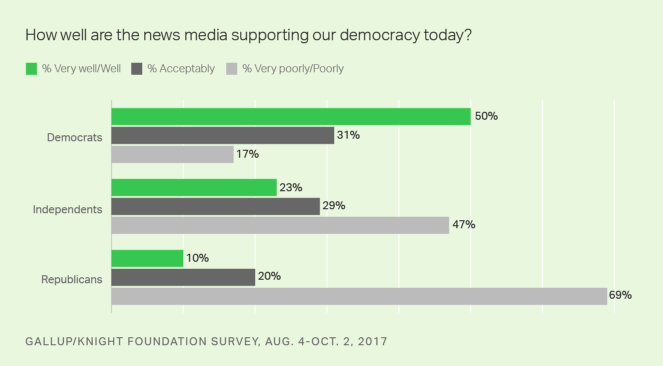 Image via Gallup
The survey of more than 19,000 U.S. adults was conducted Aug. 4-Oct. 2, 2017 and has a margin sampling error of 3 percentage points.
The poll results come as the media covers President Trump's highly anticipated 2017 Fake News Awards.
Trump revealed the winners Wednesday night on Twitter. Not surprisingly a New York Times article on the economy topped his list of the top 10 fake news stories of 2017, MRCTV reported.
CNN made the list four times. The Times made the list three times.
Thank you for supporting MRCTV! As a tax-deductible, charitable organization, we rely on the support of our readers to keep us running! Keep MRCTV going with your gift here!