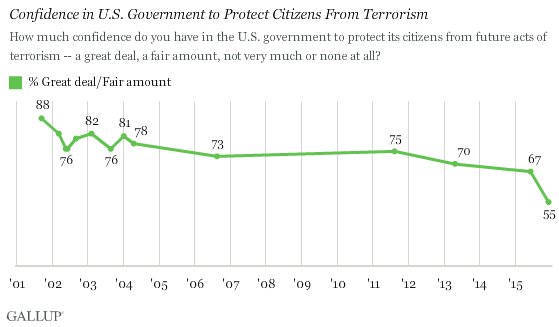 According to a recent Gallup poll, Americans' confidence in the government's ability to protect citizens from terrorism has reached a new low of 55 percent, down 12 percentage points since June.
Gallup reports,
"Confidence in the U.S. government to protect citizens from terrorism isdown 12 percentage points since June, and is now 33 points lower than the 88% who said they had a 'great deal' or 'fair amount' of confidence shortly after 9/11.

"These data, collected Dec. 8-9, come just days after the San Bernardino shootings and as more details emerge about the shooters' identities and alleged connections to radical Islamic ideology."
Data also shows that two in three Americans expect to see an act of terrorism take place in the U.S. within the coming weeks.
"The percentage of Americans who believe it is 'very' or 'somewhat likely' that acts of terrorism will take place in the U.S. in the next several weeks (67%) has increased sharply, by 22 points, since June," writes Gallup. "The current figure is the highest on this measure since early 2003, just after the U.S.-led invasion of Iraq began."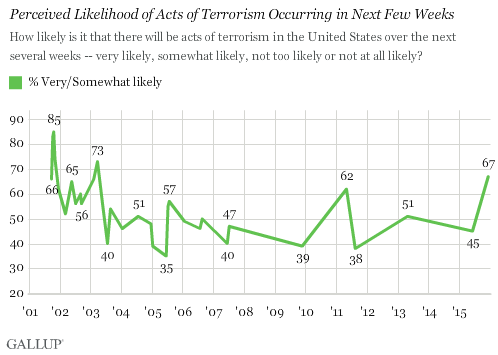 "The peak for this measure was shortly after the 9/11 attacks," Gallup continues, "when 85% of Americans felt another terrorist attack was imminent. Since then, expectations for such attacks have reached the current level only at the start of the Iraq War in March 2003 and after the U.S. killed Osama bin Laden in May 2011."
The dramatic drop in confidence and the sharp increase in perceived likelihood of another attack in the near future may reflect both the San Bernardino mass shooting in December and the Paris attacks in November.