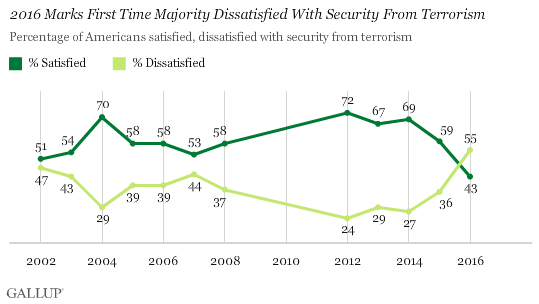 A majority of Americans (55 percent) now say they are dissatisfied with national security against the threat of terrorism, a poll finds.
This year marks the first time a majority of Americans expressed dissatisfaction with the nation's ability to fight terror and keep its people safe.
Gallup reports,
"Americans' satisfaction with the nation's security from terrorism has significantly eroded for the second year in a row, with a majority now saying they are dissatisfied. More than two-thirds, 69%, said in 2014 that they were satisfied with the nation's security from terrorism, but that figure dropped to 59% a year ago and now has fallen to 43%.

[…]

"Declines in satisfaction over the last two years dovetail with the rise of the terrorism-sponsoring Islamic State group, or ISIS. Terrorist attacks linked to ISIS late last year in Paris and San Bernardino, California, weakened Americans' trust in the government's ability to protect its citizens and pushed 'terrorism' to the forefront of the nation's most important problems.

"President Barack Obama, criticized by Republicans for his handling of terrorism, has explicitly attempted to quell Americans' fears -- first in an Oval Office address four days after the San Bernardino shootings, and again in his State of the Union address on Jan. 12. In his State of the Union speech, he outlined steps the U.S. is taking to combat the threat, stating that 'priority No. 1 is protecting the American people and going after terrorist networks.'"
The second lowest satisfaction percentage (51 percent) was registered in Jan. 2002 in a poll conducted four months after 9/11.
National security and counterterrorism will be among the most important issues that candidates must address in the race for the White House. Recent attacks have clearly shaken Americans despite the President's efforts to downplay the threat of Islamic extremism.