Students at Florida State University impeached Jack Denton from his position as Student Senate President on June 5 for alleged "transphobic and racist remarks in a GroupMe chat" according to Campus Reform. But his replacement has caught the attention of fellow students with online comments such as "#f***israel."
His sins? Warning his Catholic peers that the national Black Lives Matter movement "fosters a queer-affirming network and defends transgenderism" which is "contrary to the Church's teachings on the common good." Denton also noted that the ACLU "defends laws protecting abortion facilities and sued states that restrict access to abortion".
Screenshots of the GroupMe chat circulated on Twitter and were then included in an editorial that claimed he is "unfit to lead Florida State's student senate". The petition calling for Denton's removal amassed over seven thousand signatures before he was ousted by a vote of 86% in favor of his removal. 
fsu's student senate president, jack denton, deemed the blacklivesmatter movement and trans rights "grave evils." fsu needs a senate body president who will recognize and respect the people who attend this school. sign the peition to kick him out: https://t.co/Lyy8qxX4yN pic.twitter.com/SyhEwtQgqL

— sydney (@sydlorrainee) June 4, 2020
Denton was then replaced by Ahmad Daraldik, a Muslim student born in Palestine. It wasn't one week before "antisemitic" social media posts allegedly from Daraldik's Instagram surfaced. A concerned student posted screenshots of Daraldik's Instagram to Facebook on June 11, which included statements like "#f***israel", "#f***theoccupation", and "stupid jew thinks he is cool".
In response, another petition was created that has now amassed over 4,500 signatures calling for Daraldik's removal.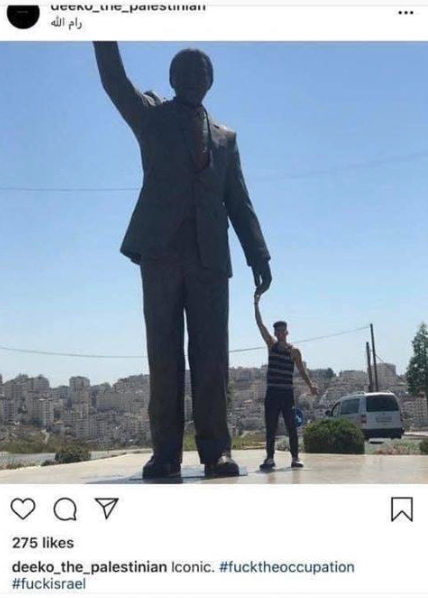 In a now deleted video, Campus Reform reported that Daraldik went on camera to explain his comments and recent trip to Palestine. Daraldik admitted that he is the subject in one of the photos, explaining that, "I made the post on Instagram to release my frustrations about the situation that persecutes my family, my friends, and all those considered second class humans in our own country." 
Daraldik also added that "Getting defamed on a Facebook page due to the fact that I expressed my frustrations with a racist system that continues to commit human rights violations and was created through the genocide of my people-- my people, the Palestinian people, is to say the least, upsetting."
Apart from the petition calling for his removal, Daraldik still serves as FSU Senate President and has not been subjected to scathing editorials or any legislative action to impeach him.