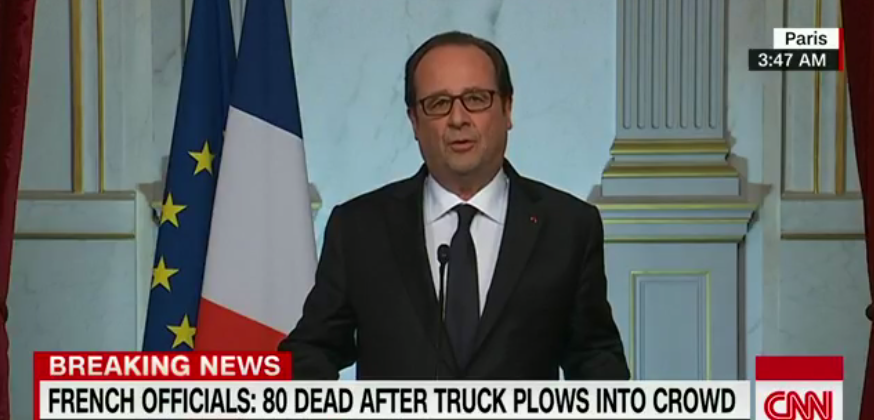 (Image via Screenshot)
French President Francois Hollande issued a statement on Thursday following the deadly attack in Nice that killed tens of people celebrating the French national holiday Bastile Day.
"Horror again has struck France," said Hollande. "In Nice during this night, a truck struck against a crowd of people celebrating the 14th of July, Bastile Day, to crush and massacre."
"At this time that I'm speaking, 77 victims, including several children, and around 20 wounded who are in intensive care," he went on. "This is of terror that cannot be ignored and this is an absolute horror, and it is clear that we have to do everything to ensure we can fight against the scourge of terrorism."
The French president vowed to strengthen his country's role in the fight against Islamic extremism in Iraq and Syria.
"Nothing will make us yield in our will to fight terrorism," he said. "We will further strengthen our actions in Iraq and in Syria. We will continue striking those who attack us on our own soil."
"Following this, we will show real force and military action in Syria and Iraq," Hollande added. 
The driver, reported as a 31-year-old man from Nice of Tunisian origin, was shot dead by French police.
Hollande said that the French authorities are looking into possible accomplices.
The death toll has risen to 80 people according to French Interior Minister Bernard Cazeneuve. 
Watch a clip from President Hollande's remarks below.