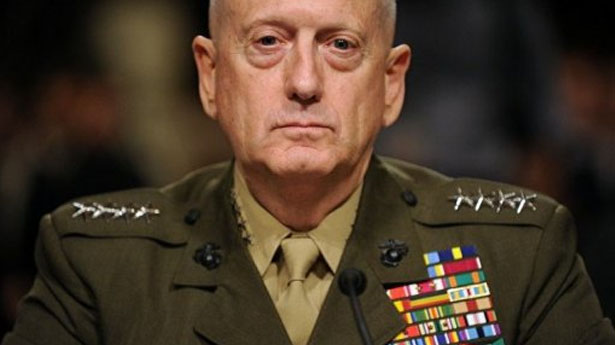 In a recent interview with the Daily Caller, retired four-star General James Mattis was pressed as to whether he would consider jumping into the 2016 presidential race as a third party candidate.
In recent days, conservative pundits, including Bill Kristol of the Weekly Standard, have floated the general's name as a possible alternative to Donald Trump and Hillary Clinton if the two front-runners were to secure their respective party's nominations.
Mattis, who is currently serving as a fellow at the conservative Hoover Institute, skirted the subject, saying that he hadn't heard about Kristol's comments.
"I haven't seen the reports and I'm quite sure it's just idle talk," Mattis told reporter Jamie Weinstein.
When asked whether he would consider running if drafted, Mattis asked that Weinstein change the subject.
He said, "I prefer not to discuss further, Jamie."
Of course, in presidential politics, not wanting to further "discuss" the prospects of running is a far cry from ruling out the possibility of running. 
While the general may have not been privy to his name being floated as a presidential candidate in recent weeks, many members of the armed forces have been pushing him to run for the Oval Office for years. 
In a 2015 speech at Columbia Basin College in Washington state, Mattis was asked if he would consider running for the nation's highest office but dismissed the idea saying he didn't think his personality would play well in the political world.
"I've lived a very colorful life and I've said some things," he told the audience. "But not once have I taken them back, and I've never apologized for them — and I won't. I like the enemy knowing there are a few guys like me around."
These words may now be coming back to haunt him as the 2016 election cycle has been marked by a backlash against political correctness and a desire among some voters for the very type of straight talk that Mattis is known for. 
Some of Mattis' more memorable quotes include: 
"The first time you blow someone away is not an insignificant event. That said, there are some a**holes in the world that just need to be shot."
"I come in peace. I didn't bring artillery. But I'm pleading with you, with tears in my eyes: If you f*** with me, I'll kill you all."
"Be polite, be professional, but have a plan to kill everybody you meet."
"No war is over until the enemy says it's over. We may think it over, we may declare it over, but in fact, the enemy gets a vote."
Bluntness aside, Mattis is also known as a student of history and economics and has drawn comparison to Dwight D. Eisenhower, who became president after serving as a general in World War II.
Mattis led the First Marine Division into the Euphrates River Valley at the onset of the Iraq War while also serving in a diplomatic capacity as the Commander of U.S. Central Command.
Mattis has not addressed the prospect of being a part of a third party ticket since the initial interview with the Daily Caller.