A former staffer of New York Democrat Governor Andrew Cuomo's now says it was the worst job in the most toxic environment she's ever had.
Lindsey Boylan, a progressive and former urban planner who worked in Cuomo's office, tweeted Sunday in response to  question asking what's the worst job she's ever had.
"Most toxic team environment? Working for @NYGovCuomo," Boylan tweeted.
"I've had many jobs. Waitressing at @Friendlys as a teenager was an infinitely more respectful environment. Even when I had bad customers who tipped poorly," she continued in the tweet thread.
"If people weren't deathly afraid of [Cuomo], they'd be saying the same thing and you'd already know the stories...Seriously, the messages and texts I receive when I speak the truth about this...it's a whole book of people who have been harmed," Boylan went on.
"Don't be surprised that it's the same small group of white people sitting alongside him at every presser. The same group that he has had by him the whole time, doing his dirty work. If you're not one of those handful, your life working for him is endlessly dispiriting," she said, calling Cuomo's office "beyond toxic."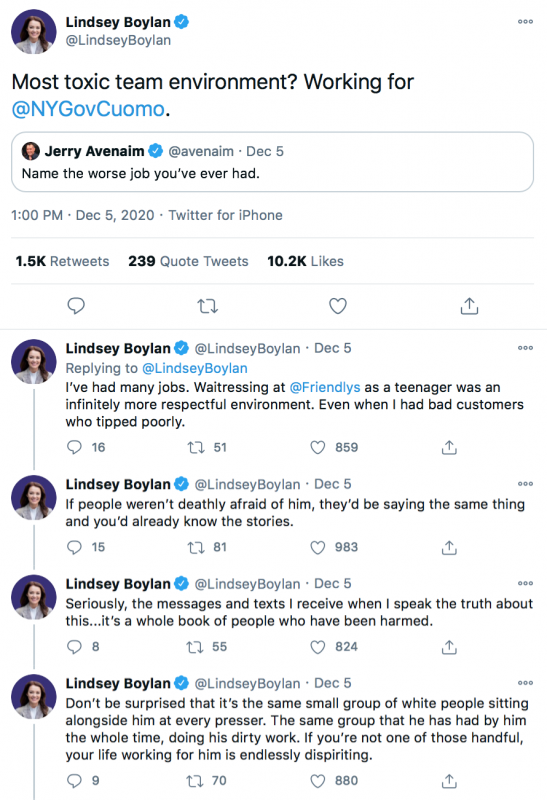 Boylan, a Democrat, ran for Congress in 2020 against Democrat incumbent Rep. Jerry Nadler, but lost in the primaries. She's now running for Manhattan Borough president.