The star of "Fast and Furious" and former U.S. Attorney General Eric Holder still thinks what he says matters — as if it ever did.
Holder took to Twitter on Thursday to outright threaten the GOP that if they make "any attempt" to remove Special Counsel Robert Mueller it "will not be tolerated."
Holder might not "tolerate" it, but what's he going to do? Run some more guns to enemies of the State?
Here's Holder's tweet: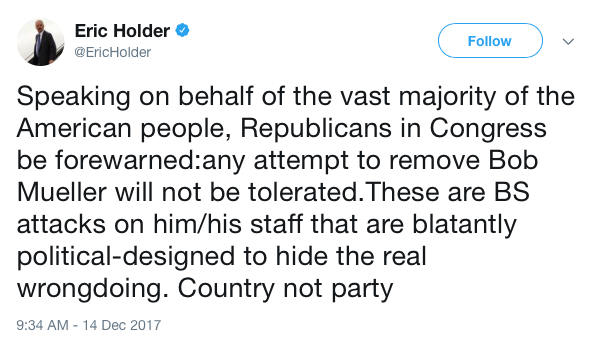 Holder seems like such a sweetheart, doesn't he?
If Holder wants to claim he's for "country not party," then why is he attacking the GOP the same way Democrats have been since before the election in which his friend Hillary Clinton lost? Seems kinda counterproductive to me.
For Holder to really put "country" before "party," maybe he should try working toward being an honorable member of the justice system rather than attempt to exacerbate the flames of a partisan liberal agenda. Just a thought.
It's funny that Holder would make himself out to be some "knight in shining armor," when in reality, he was merely former president Obama's lapdog.
In all seriousness, dangerous rhetoric from people like Holder only embolden those who do precisely the opposite of what Holder claimed. They put "party" before "country."