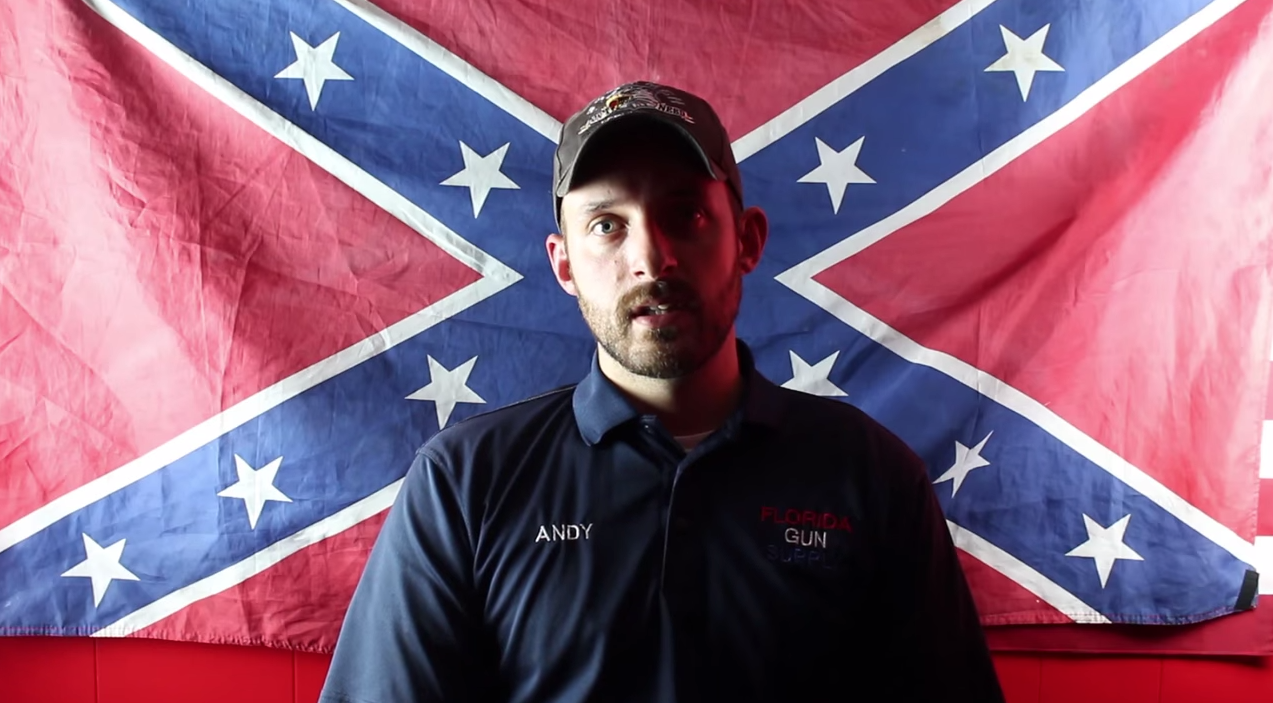 In order to start a conversation about political correctness, a Florida gun shop owner announced his store is a "Muslim-free zone."
 Andy Hallinan, owner of Florida Gun Supply, took to YouTube to voice his opinions on the current state of the country and political correctness.
Standing in front of a backdrop of a Confederate flag, Hallinan denounced the attacks on the Confederate flag, the racial divisions that have occurred as the result of the riots in Ferguson and Baltimore, and the administration's response to the Chattanooga shooting.
 "Our leaders are telling you that Islam is a peaceful religion, full of tolerance and love and hope. Don't believe their lies," Hallinan stated.
On the topic of the recent Chattanooga shooting, Hallinan said, "The leaders of our country are quick to tell you this is an isolated incident, completely unrelated to any other terrorist attack. Don't believe their lies."
Hallinan announced three changes he would be making to his store in light of the Chattanooga shooting:
"In response to the latest terrorist attack, I've made a few changes to Florida Gun Supply. Effective immediately, our concealed carry classes are free. We're going to ask you to cover our hard costs like insurance, gun rentals or ammunition, but the class itself will be free. Take this opportunity to get armed, get trained and carry daily. Effective immediately, our shooting range is also open to the public for free, because we want the public to be able to go out and practice in case we are ever called upon to defend our lives or our community. Now, I have a moral and legal responsibility to ensure the safety of all patriots in my community. And so effective immediately, I am declaring Florida Gun Supply as a 'Muslim-free zone.'
Hallinan defended his decision with the claim, "I will not arm and train those who wish to do harm to my fellow patriots. The jihadists said they would do it and they have. They said they live among us and they do. We must be prepared, vigilant and equipped to handle any situation that may come our way. Don't listen to the lies from the leaders of our country, telling you that Islam is not evil, that it's just another religion. It's not."
Hallinan appeared on CNN yesterday in order to clarify his remarks.
Hallinan announced his video was intentionally provocative. He wanted to "offend as many people" to "start a conversation about the political correctness that has become overly extreme here in the United States and [is] causing loss of life that we could prevent if we looked at Islam for what it is."
Hallinan also conceded it would not actually be possible for him to ban Muslims from his store since it is illegal. He would, however, deny people the ability to buy guns on a case-by-case basis. Hallinan stated he would deny anyone a gun who he feels would not be doing good for the community, including white supremacists.
Although Hallinan has made it clear he understands it is illegal to deny people service on the basis of their religion, the Council on American-Islamic Relations announced it would be asking the Department of Justice to investigate Florida Gun Supply for federal civil rights violations.