It looks like there could be some big changes in the state of Florida concerning firearms and the use of them.
Florida Gov. Rick Scott (R) now has 15 days to sign a bill that passed in the Florida House Wednesday night. The legislation - if passed - would raise the minimum age to purchase a gun and "allow some teachers and staff to carry guns in school," among other stipulations.
According to CNN, the bill lists the following points:
Raise the age to purchase a firearm to 21 from 18;
Require a three-day waiting period for firearm purchases, with some exceptions;
Ban the sale or possession of bump fire stocks, which allow a semiautomatic weapon to fire more like an automatic weapon;
Give law enforcement more authority to seize weapons and ammunition from those deemed mentally unfit or otherwise a threat;
Provide additional funding for armed school resource officers and mental health services.
The bill, labeled CS/SB 7026, received 67 "yea" votes and 50 "no" votes in the Fla. House.
Here's a tweet displaying which Fla. House members voted in the affirmative and the negative: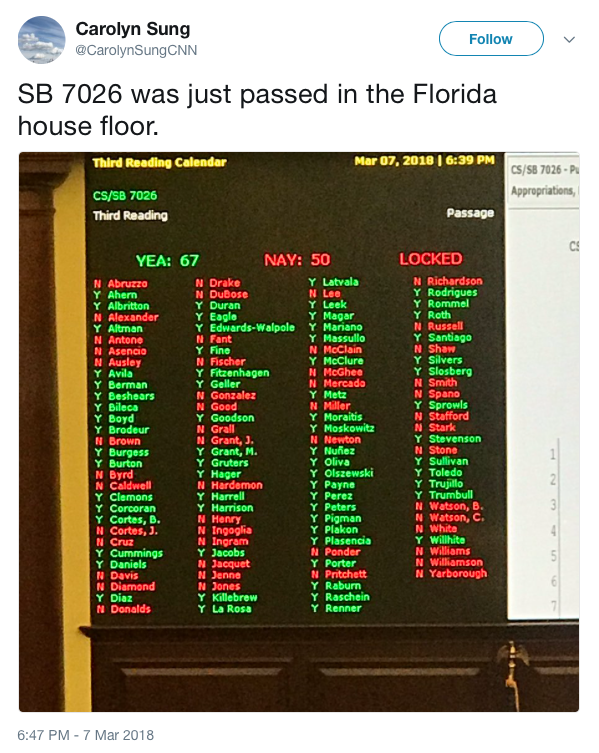 As far as the provision that "teachers and some staff" would be allowed to carry firearms in schools, Scott isn't exactly the biggest fan of it.
The Wall Street Journal reported:
The legislation includes a provision opposed by Mr. Scott and many of the families: the creation of a voluntary "guardian" program to arm certain school personnel who complete a training program and pass a psychological evaluation. In the face of opposition to arming schoolteachers, lawmakers scaled back the original plan by excluding people who exclusively perform classroom duties.
Scott is said to have vowed to look over the bill "line by line" before signing the proposed legislation, according to CNN.