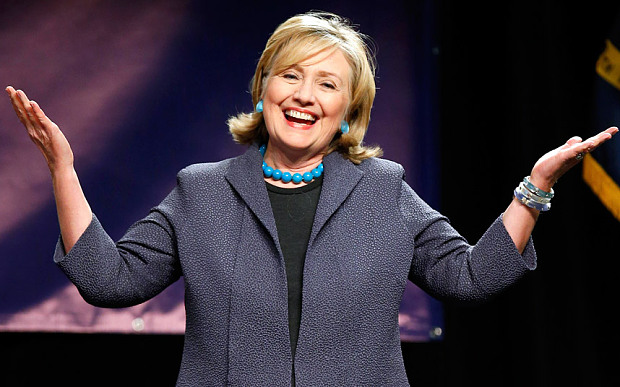 The last time she ran for president, Hillary Clinton ran as a conservative "blue dog" Democrat. Especially in the coal mining states she talked about investing in clean burning coal technology because coal was part of her energy plan.
In August of 2007, she told Salon about the role of coal in her energy plan:
I think we have got to take a hard look at clean coal. I have advocated carbon sequestration, I have advocated power plants looking for ways to use coal more cleanly and efficiently. I doubt very much that using coal in liquid form for transportation could ever pass the environmental test, but I am willing to do the research to prove it one way or another.

The political pressure [to use coal] will remain intense, and I think you have got to admit that coal — of which we have a great and abundant supply in America — is not going away. So how do we best manage the possibility of using clean coal, but having very strict environmental standards? It is not going to do us any good if we substitute one dirty energy source for another. 
According to Grist Magazine in August 2007, Ms. Clinton wanted duplicate JFK's sending a man to the moon in ten years effort, but with developing clean energy and coal was part of that equation. 
Proposes a Strategic Energy Fund that would raise $50 billion over 10 years by taxing the "excess profits" of oil companies and cutting their tax breaks. The money would be invested in "clean energy technologies," including renewable energy, energy efficiency, "clean coal," plug-in hybrids, cellulosic ethanol and other biofuels, and more. Clinton describes it as "an Apollo Project-like program dedicated to achieving energy independence."
Eight years later, Hillary is running again - but, this time, because of the pressure from the Bernie Sanders/Elizabeth Warren extreme left wing of the Democratic Party, she is running as a very liberal Democrat and, thus, her attitude about coal seems to have shifted. As Reuters points out:
Eight years later, a Reuters review of her recent campaign speeches and policy announcements shows that the great-granddaughter of a Welsh coal miner is now talking about the coal industry in the past tense.

The little-noticed shift in rhetoric speaks volumes about how the United States' energy landscape has changed since Clinton last campaigned in 2008: oil and gas fracking have exploded and cheap natural gas has taken a huge bite out of coal.

In the intervening years the Obama administration has also proposed aggressive measures to tamp down greenhouse gas emissions from fossil fuels like coal, while once-powerful coal companies like Arch Coal, which declared bankruptcy last week, have lost their political clout.
Last week, when President Obama announced the new coal-fired plant regulations, which some believe will kill the coal industry, Ms. Clinton was quick to give them rave reviews
Clinton was quick last week to praise President Obama's stricter rules on coal-fired power plants, vowing to both defend and build on them. Her stance won plaudits from environmentalists within her party, but unions, a key constituency, are concerned she has yet to say how tougher climate rules will affect coal industry jobs.
It's interesting how her positions change as soon as the political pressure changes.
The videos below show Hillary Clinton touting her support for clean coal technology as a key component of her energy plan during the 2008 campaign.