As if we didn't have enough of the crybaby, social justice crap on college campuses, one Florida professor is showing off his "woke" wares for the whole school to see.
Pensacola State College art professor — go figure — Douglas Reiser designed some anti-Trump shirts ahead of the 2016 presidential election. He also created some shirts for 2017 as well. All of the shirts are being displayed by the college's art department as an exhibit.
Here's a couple of tweets from a Twitter account claiming to be Reiser: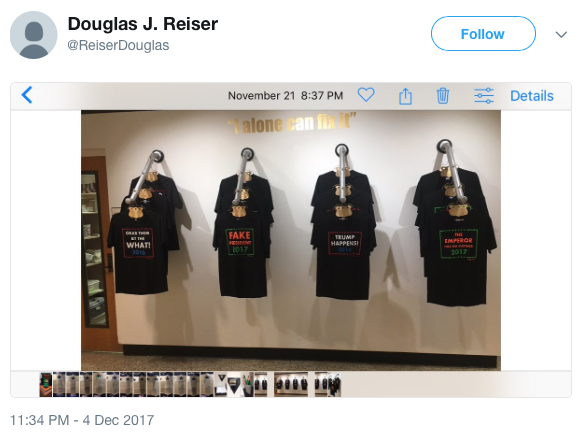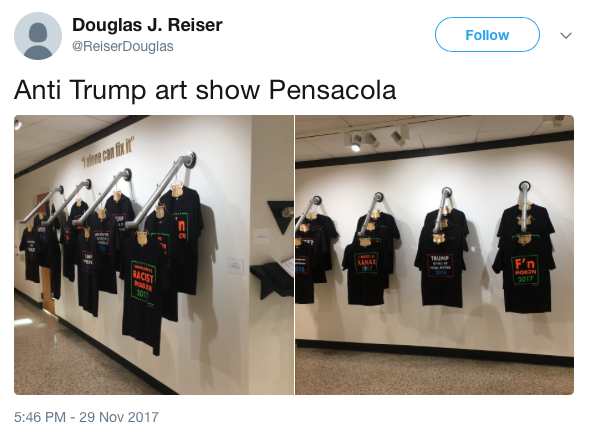 Classy, yet understated. But wait! There's more!
Each shirt has engraved plaques with less-than-flattering quotes from President Trump's past. The plaques even have room for more quotes that Reiser deems worthy in the future.
Reiser claims that since the Pensacola-area in general is "Trump-central," he felt that "somebody" should tell the area's residents what's what.
"This is such a Trump-central area, it's so pro-Trump, that I felt like somebody in this area should say, 'Hey, we're not all pro-Trump,'" Reiser told the Pensacola News Journal.
According to the Journal:
To the right of the T-shirt display is Reiser's "free speech zone," featuring a free speech book and unsharpened "free speech pencils." Potential scribblers can sharpen those themselves using a wall-mounted sharpener with the words "resist now" engraved into the front of it.
Reiser welcomes pro or anti-Trump messages in the free speech book.
To be fair, it's Reiser's right to free speech that allows him to pull this "exhibit" off, but it's not very likely that people who oppose Reiser's display will be too psyched about using a "Resist Now" pencil sharpener. By implementing something like that, Reiser's call for anybody to use his "free speech" area narrows the spirit of actual free speech. He's basically saying, 'You can disagree with me, but you're going to do it on my [Reiser's] terms.'
Another shining display of tolerance by liberals. Way to go!
H/T: Fox News
For a closer look at Reiser's "art," check these out: