The Detroit firefighter who was fired for bringing a watermelon into his station as a welcome gift is now getting support from black firefighters in his city.
As MRCTV previously reported, probationary firefighter Robert Pattison (spelled "Pattison" in the original report but "Pattinson" in newer reprts) brought a watermelon into his 90 percent Engine 55 station as a way of introducing himself to his fellow firefighters. After some people allegedly complained, Pattison was fired for his "offensive and racially insensitive" behavior.
FOX 2 now reports Pattison is receiving support from black Detroit firefighters. In a post on Facebook on Tuesday, Tadarius Spearman shared a photo of Pattison with black firefighters.
Fox 2's screencap of the post reads, "Just wanna let everyone kow that he's a real amazing dude and it was all good intentions. And our ENTIRE class supporting him in this. ESPECIALLY us African Americans and that's all that needs to be said":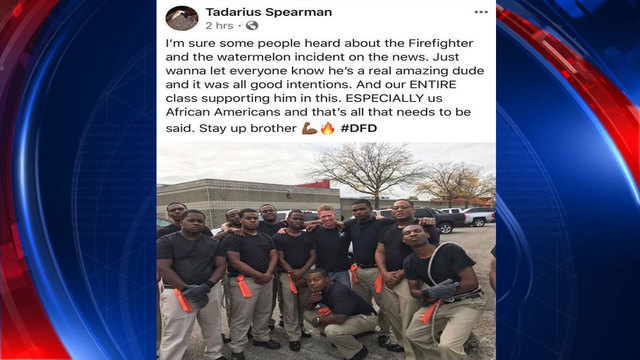 (Image source: Fox2NY)
Thank you for supporting MRCTV! As a tax-deductible, charitable organization, we rely on the support of our readers to keep us running! Keep MRCTV going with your gift here!
Please support MRCTV today! (a 501c3 non-profit production of the Media Research Center)
DONATE