In order to understand the radical liberal lunacy that runs rampant over everything in the public sphere, it's important to understand that utilizing double standards is a way of life for those on the Far Left.
Such is the case with the story of ESPN host and political activist Jemele Hill.
On Monday, Hill launched a Twitter tirade in which she called President Trump "a white supremacist who has largely surrounded himself w/ other white supremacists." She also called Trump a "ignorant," "offensive," "unfit to be president," a "bigot" and an "incompetent moron."
Former ESPN baseball analyst and retired 20-year MLB veteran Curt Schilling responded on Twitter to Hill not being fired by ESPN and parent company Disney despite his firing for tweeting his own beliefs.
Here's the tweet: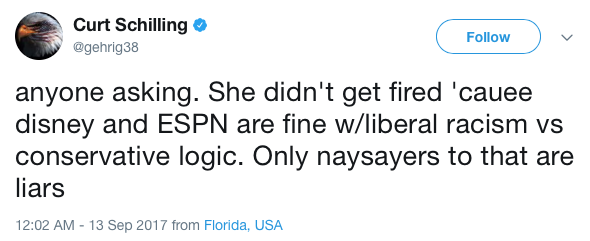 If you recall, Schilling was fired by ESPN in April 2016 for what the network called an "unacceptable" tweet in which Schilling tweeted out a meme of a scantily-clad, and extremely offensive to the eyes, alleged member of the transgender community. Schilling's now-deleted tweet espoused his stance against bathrooms being open to all genders regardless of gender designation.
Despite firing Schilling, ESPN merely sent out a statement on Twitter regarding the Hill situation, saying, "We have addressed this with Jemele and she recognizes her actions were inappropriate."
That's it. Nothing else. No repercussions for her radical activism, even though she is in the public eye and politics aren't part of her job.
Anyone is free to speak their mind, no matter whether people agree or disagree with their opinions. But left-leaning outlets like ESPN employe a clear double standard when it comes to tolerating a liberal point of view versus a conservative one.
Schilling wasn't the only conservative allegedly let go or disciplined for their right-of-center views.
Legendary ESPN anchor Linda Cohn was recently suspended for saying that "politics played a part" in the network's subscription downturn.
Former ESPN reporter Britt McHenry believes that she was one of the "approximately 100 employees" the sports network let go in April because she's a conservative.
In a now-deleted tweet McHenry wrote, "I mean I've been openly Conservative…look how that ended up."
In contrast, Hill recently received support from self-induced unemployed quarterback Colin Kaepernick.
Here's his tweet:

It's unfortunate that double standards have become the norm -- not only in the world of sports, but also in the world of popular thought.