President Trump took to Twitter on Monday to respond to the news of disgraced FBI agent Peter Strzok's firing.
"Agent Peter Strzok was just fired from the FBI – finally," he wrote. "The list of bad players in the FBI & DOJ gets longer & longer."
He went on to ask whether Special Counsel Robert Mueller's investigation into Russian meddling in the 2016 presidential election and alleged collusion with the Trump campaign would be dropped now that Strzok, who worked on the probe, has been terminated.
"Based on the fact that Strzok was in charge of the Witch Hunt, will it be dropped?" Trump tweeted. "It is a total Hoax. No Collusion, No Obstruction - I just fight back!"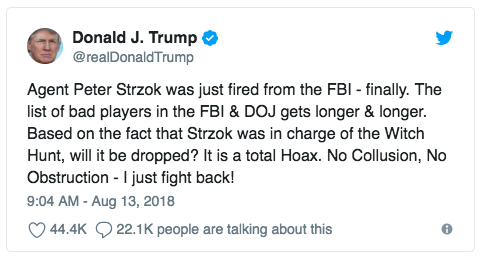 He added that the FBI's investigation into Hillary Clinton's emails, which Strzok also worked on under fired FBI Director James Comey, was a "sham" and should be "properly redone."  
Strzok was removed from the Mueller probe after his anti-Trump text messages with former FBI lawyer Lisa Page were leaked. They were having an extramarital affair at the time. 
He insisted when he testified before Congress in July that the texts did not prove he was biased at all in his work.
His lawyer in a statement denouncing Strzok's firing on Monday said that the decision was "taken in response to political pressure" and was based "not on a fair and independent examination of the facts."
"This decision should be deeply troubling to all Americans," Strzok's lawyer Aitan Goelman said in a statement. "A lengthy investigation and multiple rounds of Congressional testimony failed to produce a shred of evidence that Special Agent Strzok's personal views ever affected his work."
In his text messages to Page, Strzok explicitly said "we'll stop" Trump from becoming president.