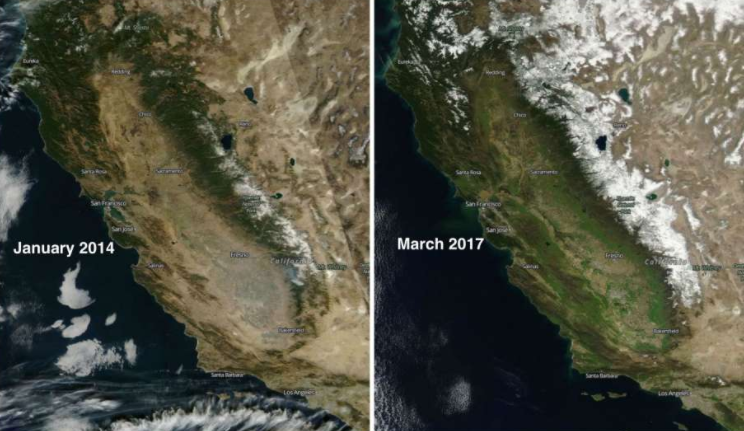 (Image via Twitter)
After more than five years of drought in California, The Golden State on Friday lifted its drought emergency.
While the drought state of emergency has ended, certain restrictions on water use will remain.
"This drought emergency is over, but the next drought could be around the corner," said Gov. Jerry Brown (D) in a press release. "Conservation must remain a way of life." 
According to the press release, the state will still require urban areas to report their water usage to the state's Water Resources Control Board and will continue to enforce against "wasteful practices" such as "watering during or after rainfall, hosing off sidewalks and irrigating ornamental turf on public street medians."
The drought emergency still applies in certain California counties – Fresno, Kings, Tulare and Tuolumne – "where emergency drinking water projects will continue to help address diminished groundwater supplies."
In an effort to make "conservation a way of life in California," state agencies as directed by Gov. Brown proposed new legislation on Friday "to establish long-term water conservation measures and improved planning for more frequent and severe droughts." 
Gov. Brown declared a drought state of emergency over three years ago on Jan. 17, 2014.  
California in 2017 saw above-average precipitation and snowpack, according to the U.S. Geological Survey (USGS), a contributing factor to the state's decision to lift the drought emergency.
Gov. Brown addressed the drought with a series of executive orders mandating statewide water restrictions.
Thank you for supporting MRCTV! As a tax-deductible, charitable organization, we rely on the support of our readers to keep us running! Keep MRCTV going with your gift here!