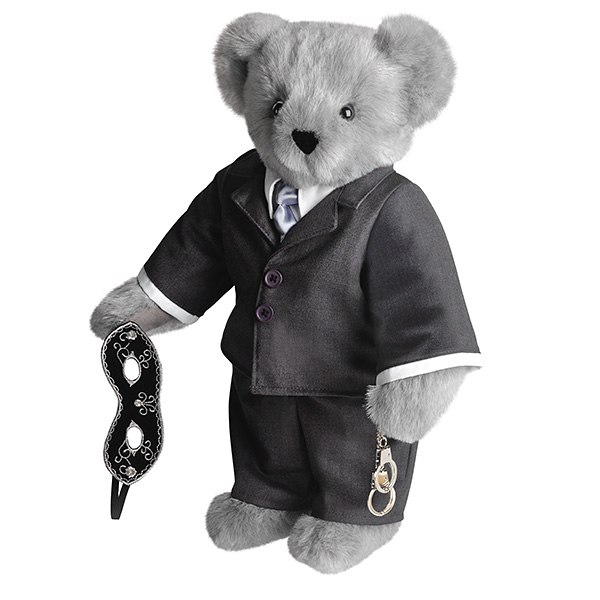 When choosing a Valentine's Day gift for your sweetheart, it's important to be creative.  Roses are boring and die.  Chocolate will make your significant other fat, and nobody wants that.  But the Vermont Teddy Bear Company has come up with the perfect gift for the woman who loves stuffed animals and who also may occasionally dabble in S&M.
The "Fifty Shades of Grey" teddy bear--based on the book and film "Fifty Shades of Grey"-- is a 15-inch, $90 dollar, adorable bundle of sexiness.  
The bear is grey, of course and comes adorned in a dark suit.  He also has a few accessories including a silk mask and tiny handcuffs for naughty, x-rated teddy bear action.
The description for the bear on the Vermont Teddy Bear Website reads: 
"If you want to dominate Valentine's Day, skip the roses and send the limited-edition Fifty Shades of Grey Bear. Inspired by the best-selling book, the adult gift is specially designed for fans obsessed with Grey, biting their lips with anticipation over the movie. He features smoldering eyes, a suit and satin tie, mask – even mini handcuffs. Handmade in Vermont, USA using the silkiest fur we can get our paws on; smooth, faux-suede details and 100% recycled stuffing. Guaranteed for life."
Wow!
I think now would be an excellent time to point out that Teddy Bears are traditionally a children's toy.  Ohhhh, but not this little heartbreaker.  No child could possible afford the $90 price tag but if you're not familiar with the Fifty Shades of Grey series and are thinking of buying this for one of your kids,  DON'T!  This is a bad gift!
Clearly the most disturbing stuffed toy to hit the market since "Tickle Me Elmo" stole American's hearts in the mid-90's, it's not clear if the Fifty Shades of Grey Bear will have much staying power once the movie is out of theaters.  
If you're still on the fence as to whether to purchase this particular bear for your beloved, you can always live chat with on of the company's "Bear Counselors."  You may also want to talk to some other types of counselors if you purchase this item.