According to feminists, a shirt emblazoned with a single word can "demean women," "hinder progress" and perpetuate "rape culture."
Last month, a petition was launched in order to convince the retail giant Target to stop selling a shirt with the word "TROPHY" written across the front: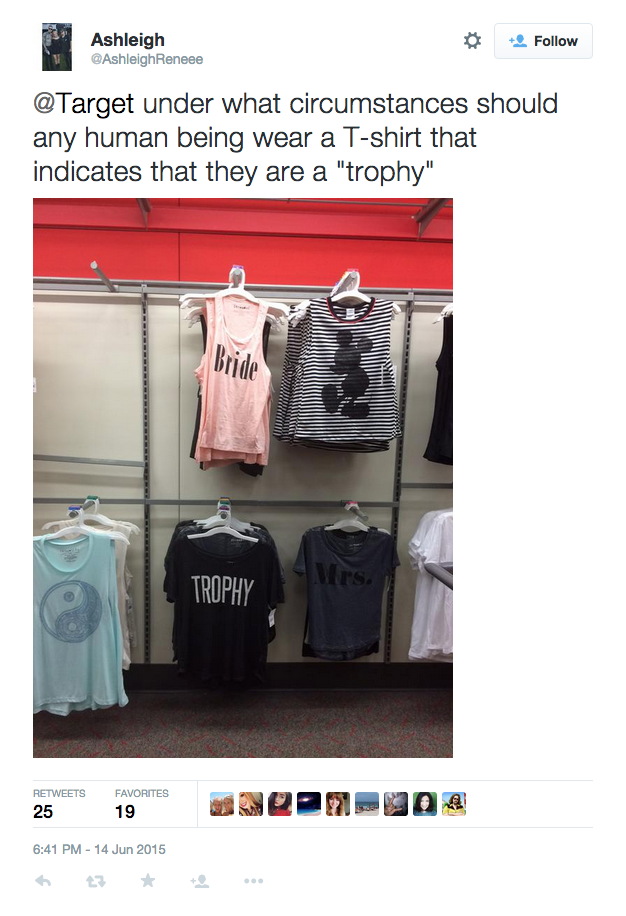 The petition author argues the shirt is "objectifying" and "demeaning":
"Calling any woman, but especially the young girls who shop in the juniors department, a 'trophy' is objectifying and demeaning. We are not things - we are human beings, and we cannot let huge, influential corporations like Target get away with such irresponsible behavior."
She claims selling this shirt is just the latest example of "irresponsible behavior" from Target:
"This is not the first time Target has been in hot water for sexism and gender bias, but it seems that they have not learned anything from their past mistakes. In a press release, a Target spokesperson called these shirts 'a fun wink,' but I, along with thousands of other consumers, fail to see anything fun or funny about the message this shirt sends."
To the detractors, the petition writer announces, "This shirt hinders progress made by thousands of advocates before us. It says that, despite being 'equal' on paper, we are still viewed as 'things,' and Target should not be profiting from that."
Karlee Kuehn, one of the people who signed the petition, wrote as her reason for signing, "Target, please stop perpetuating rape culture by carrying products that imply women are only objects to be obtained or won!"
In order to shed light on the controversy surrounding the shirt, Target released a statement to USA Today:
"It is never our intention to offend anyone and we always appreciate receiving feedback from our guests. The shirt you're describing is part of a collection of engagement and wedding shirts that are available in our women's and plus size departments. The collection also included shirts that say 'Team Bride,' 'Mrs.' and 'Bride.' These shirts are intended as a fun wink and we have received an overwhelmingly positive response from our guests."
The petition currently has over 14,000 supporters.