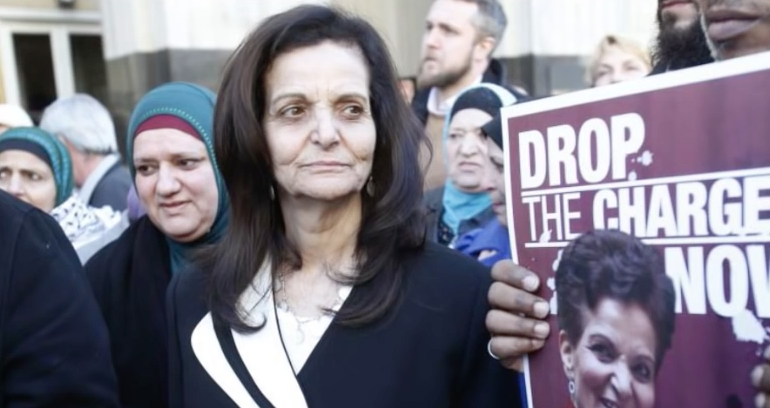 The Left is going to flip out about the news that came out Thursday about convicted terrorist and modern feminist, Rasmea Odeh.
Odeh, 69, and her legal team have accepted a plea deal that will enable her to avoid jail time, according to a statement from the Rasmea Defense Committee. However, as a part of the deal, Odeh will have her U.S. citizenship revoked and will face deportation.
According to the Daily Caller:
"Odeh's case has been in limbo since 2014, when a federal judge in Detroit sentenced her to 18 months in prison for immigration fraud for lying on her visa and citizenship forms about her past terrorism convictions and her ties to a terrorist group."
This was not the first time Odeh has been in trouble with the law.
MRCTV reported this back in February:
"Odeh was convicted in Israel in 1970 of taking part in two bombings the year before. She was convicted for her role in a bombing of the British Consulate, and was also convicted of taking part in a bombing in Israel that killed two students and injured 9 others."
Odeh is no saint. Her affiliation with Palestinian terrorism against the state of Israel, combined with her speaking ties to Women's March organizer and Sharia Law lover, Linda Sarsour, goes to show that Odeh didn't have America's best interests at heart despite her lying to become a citizen of this country.
The Rasmea Defense Committee considers Odeh's avoidance of jail time as a "victory."
"She will plead guilty to Unlawful Procurement of Naturalization, lose her U.S. citizenship, and be forced to leave the country," the committee said in the statement, "but will exit the U.S. without having to serve any more time in prison or ICE detention, a victory, considering that the government had earlier fought for a sentence of 5-7 years."
Although Odeh is Palestinian, she will be deported to Jordan.
Well, arrivederci and hasta la bye-bye!
Thank you for supporting MRCTV! As a tax-deductible, charitable organization, we rely on the support of our readers to keep us running! Keep MRCTV going with your gift here!