A woman in Cote d'Ivoire is showing her support for "#metoo"--using her hair.
BuzzFeed News reports Laetitia Ky, a 21-year-old who works in marketing, created an Instagram account to showcase some of her more unconventional hairstyles (otherwise known as hair art).
In one of her Instagram posts, Ky stylized her hair to look like a man lifting up a woman's skirt, complete with her hair wearing an outfit: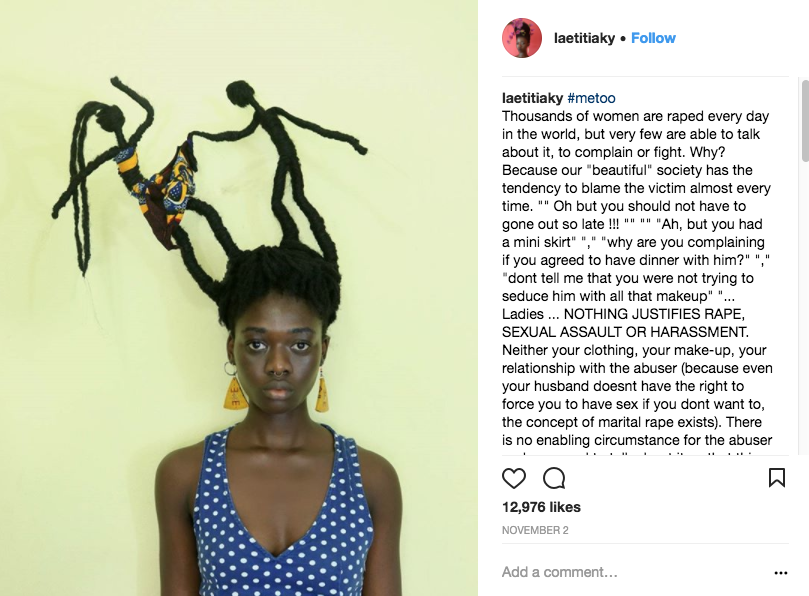 (Image source: Instagram)
In the description of her post, Ky claimed that "thousands" of women are raped "every day in the world," but yet "very few are able to talk about it, to complain or fight." According to Ky, women are silent about sexual assault because "our 'beautiful' society has the tendency to blame the victim almost every time."
Considering the number of people in Hollywood and the news media who have gotten fired as a result of sexual assault accusations, it appears society doesn't actually have a problem with blaming the victim—or going along with accusations that may be decades ago.
As of Dec. 5, 2017, the post has received over 12,900 likes on Instagram.
Other causes that Ky has used her hair to support include standing against gun violence:
Thank you for supporting MRCTV! As a tax-deductible, charitable organization, we rely on the support of our readers to keep us running! Keep MRCTV going with your gift here!