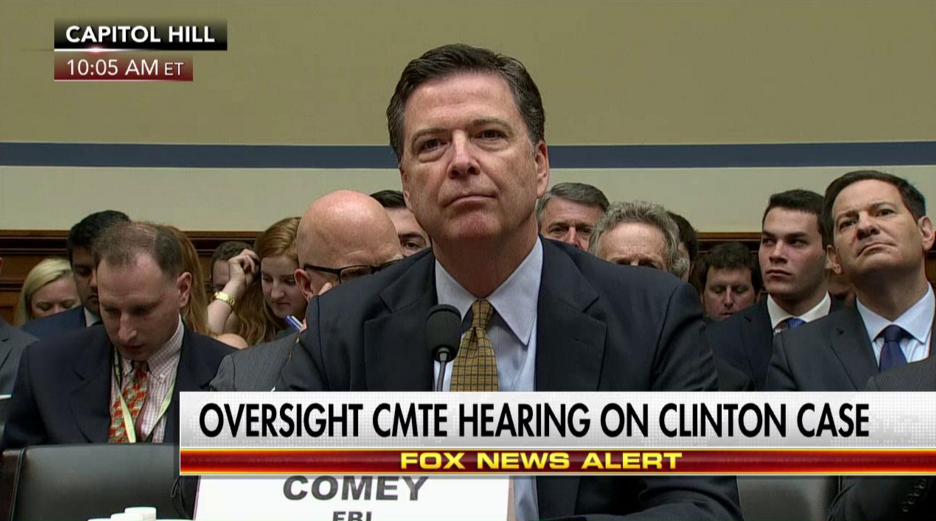 (Image via Twitter)
FBI Director James Comey testified before the House Oversight and Government Reform Committee on Capitol Hill Thursday following the Bureau's recommendation not to prosecute former secretary of state Hillary Clinton.
Prior to the hearing, Comey called Clinton "extremely careless" for her mishandling of classified information using a private email server as a top government official. 
He explained on Thursday what he meant to Congress, saying that he "intended it as a commonsense term."
"I intended it as a commonsense term," said Comey. "Somebody who should know better, someone who is demonstrating a lack of care that strikes me as – there's ordinary accidents and then there's just real sloppiness."
"So I think of that as kind of real sloppiness," he said.
"Certainly she should have known not to send classified information," said Comey. "That's the definition of negligence. I think she was extremely careless. I think she was negligent. That I could establish."
"What we can't establish is that she acted with the necessary criminal intent," he argued.  
Comey said during the hearing that the FBI found over 100 emails on her server that were marked classified when sent or received despite Clinton's claims otherwise.
He held that it was "possible" Clinton was not "sophisticated enough" to recognize an email marked classified.  
"A question about sophistication came up earlier – whether she was actually sophisticated enough to understand what a 'C' in parenthesis means," said Comey.
"I think it's possible she didn't understand what a 'C' meant when she saw it in a body [of an email] like that," he argued.
He insisted that there was "no coordination" between the FBI and the White House nor the U.S. Department of Justice in his recommendation not to prosecute the former secretary of state and presumptive Democratic presidential nominee.