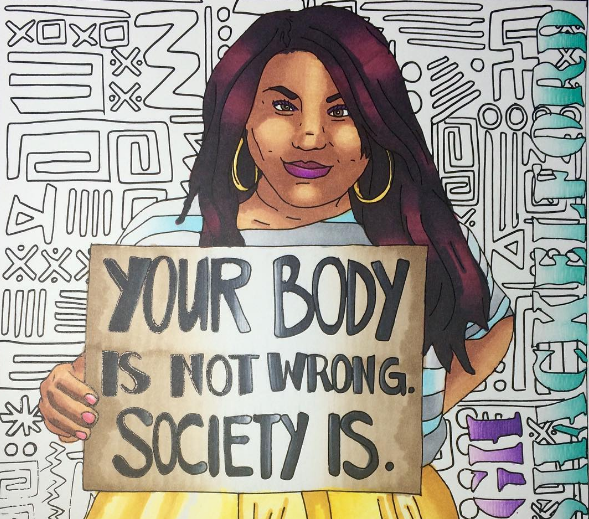 (Image source: Instagram)
If you didn't think adult coloring books were bad enough, there is now a coloring book specifically designed to teach people there is nothing wrong with being morbidly obese.
According to its description on Amazon, "Body Love: A Fat-Activism Coloring Book" attempts to combine the need for constant reassurance with the adult coloring book craze.
The description of the book describes "fat activism," commonly referred to as the "body-positivity movement," as promoting the idea that "respect for other people should not be given out based on perceived notions of health, outdated standards of beauty, or any other aesthetic considerations of someone's body."
Unless, of course, if you aren't proud to be overweight or if you happen to lose a few pounds.
The illustrator of the book, Allison Tunis, told Mashable she first came up with the idea for the coloring book because she wanted to "contribute to the movement" that taught her there's nothing wrong with making unhealthy life decisions.
Tunis notes she was particularly motived by the "inclusive," "ready-made audience" that she could sell her book to in the fat-positivity community (i.e., people who would buy anything gimmicky if it will make them feel better about themselves).
Tunis claims her coloring book acts as a form of therapy because it "forces you to work out your own issues with bodies. It's not only a soothing and relaxing meditation through the act of coloring, but also a meditation on self."
Although the coloring book is meant for adults and features some naked drawings, Tunis told Mashable parents of young impressionable children have also been buying the coloring book to share with their kids.
She said, "People have been saying that they are buying this coloring book not only for themselves, but to color in with their daughters and children."
"I really think it helps spread a positive notion. You are spreading awareness that all bodies are good bodies to your children," she continued.
Given the obesity epidemic in the United States, and the increased risk for heart disease and diabetes associated with obesity, perhaps children shouldn't be taught that "all bodies are good bodies" if some bodies can kill you.
Some of the profits from the sale of coloring book go to the Canadian Mental Health Association, which unlike most health associations, Mashable claims apparently deals with the "mental health impacts of dealing with fat hatred and weight-based stigma."