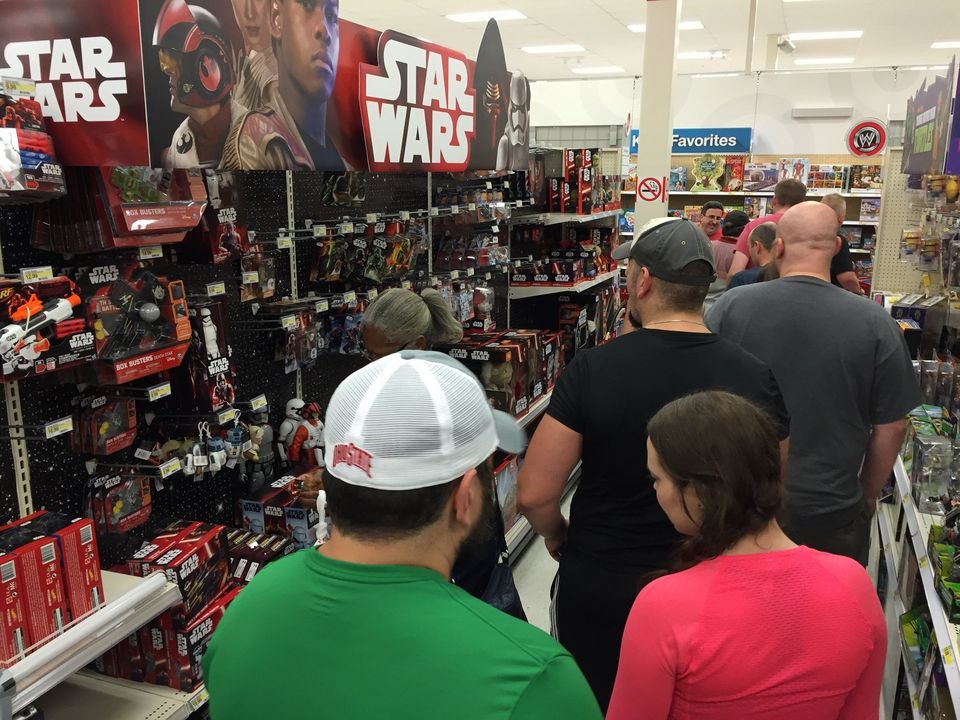 Star Wars fans, young and old, lined up in front of Targets, Walmarts and Toys 'R' Us stores late Thursday night to be among the first to get their hands on the newly released set of Star Wars action figures and other toys featuring characters related to the upcoming movie, "The Force Awakens," the seventh film in the Star Wars saga. 
More than 100 new toys associated with the film were released late last night in a promotion by The Walt Disney Co. and Lucasfilm dubbed "Force Friday."
The high demand for Star Wars toys is nothing new.  Since 1977, when the  original Star Wars film was released, the products have been highly coveted by Star Wars enthusiasts. At first, the small plastic figures and model space cruisers were simply playthings for young fans who used them to recreate scenes from the iconic films. Now, they are seen by many as an investment. If kept in their original packaging, the toys from the original films can sell for hundreds of dollars. In some cases, thousands.  At a recent science fiction convention, one vendor was selling a vintage Darth Vader action figure which had never been removed from its package for $1,500.
Younger fans are less likely to be able to restrain themselves from tearing open the box so that they can zoom around the house with their brand new "Millennium Falcon." But, the market for the products extends to adults, as well. 30-somethings who grew up with the beloved films--and who have significantly more to spend than your average 6-year old--are often willing to dole out significant sums of money for the newest Star Wars products. Not necessarily to play with, but to display or simply store away in hopes that, someday, they will increase in value.
Industry experts expect nearly $3 billion worth of Star Wars merchandise to be sold this year, most of it prior to the film's opening, which is scheduled for Christmas.
For the last 30 years, the toys have been produced by Hasbro. The popularity of the toys proved insanely profitable and their sales are responsible for a great deal of the $37 billion that the franchise has raked in over the last 33 years. 
Some may find the idea of grown men lining up at stores to purchase items that were initially intended for children to be a bit a bit bizarre. But, Star Wars has proven to be a life-long obsession for fans who fell in love with the original films as children and teenagers and have been hooked ever since.
"'Star Wars' hits a chord with people that a lot of other movies don't," said 47-year old Andrew Gross, who lined up in front of a  Target in Cleveland  at 9:30pm, Thursday in hopes of being among the first to purchase the newly released Star Wars items.
 "It means so much to people. It's so much part of their life and their childhood. ... It's just such a classic story. So, buying action figures and other things like this allows people to bring that magic of the movies home, I think."