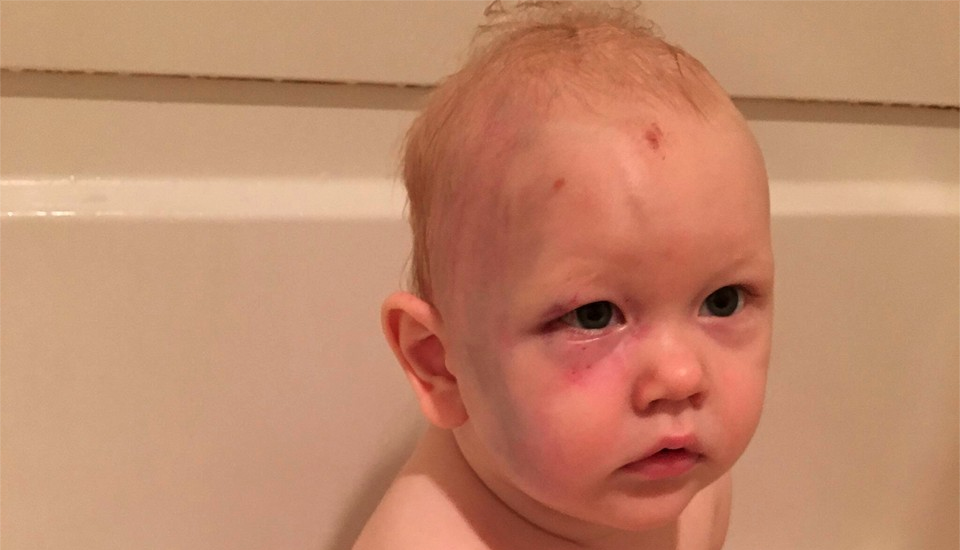 A couple in Sherwood, Ore., are outraged by an Oregon court's refusal to press charges against a reportedly vicious babysitter who admitted to hitting their one-year-old boy hard enough that an investigating detective said it could have killed the child.
Apparently, Oregon law demands prosecutors prove a victim suffered a "physical injury" that caused "substantial pain" -- which can be difficult to prove when the victim can't explain the extent of their suffering.
"Something needs to be done," wrote father Joshua Marbury in a Facebook post. "NOBODY can just hit a child and more to just get away with it because the child (can't) verbally tell you."
This ruling comes two months after the Marburys returned home to find their son, Jacob, screaming while the babysitter was sleeping on the couch.
Despite photo evidence, multiple doctors noting that the bruising showed a handprint, and a verbal confession from the abuser, the courts still refuse to prosecute the case.
"The first thing I saw was a black eye," said mother Alicia Quinney. "I thought maybe marker got on his face or something. When he turned over, his whole right side of his face -- black and blue."
"It's not fair and I want my son to have justice, and I want everybody else who is dealing with this to be able to come forward and be the voice for the people that need help," she said.
Washington County Deputy District Attorney Dustin Staten reportedly hadn't seen the actual photos of the bruising and has since redoubled his efforts to hold the babysitter accountable.
"Seeing those photos has caused me to want to take a different path," Staten said Saturday in a phone interview with The Oregonian/OregonLive. "There's additional people I need to consult with based on those photos I've seen today."