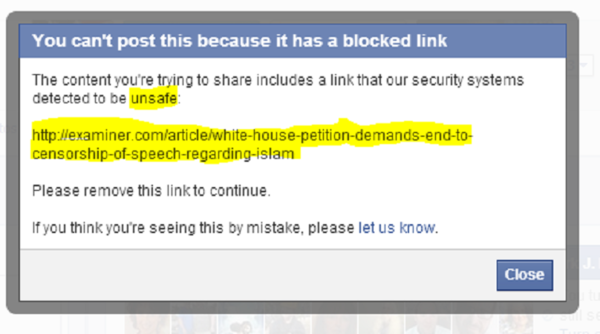 Facebook has often been accused of being liberal and censoring conservative news and commentary, but now people are offering proof that those accusations may, indeed, be true. 
Gizmodo, a major tech blog, interviewed some of the former editors for Facebook's news aggregation service (Facebook calls them "news curators"). While technically not Facebook employees, these curators have "the power to choose what stories make it onto the trending bar and, more importantly, what news sites each topic links out to." They contend the selection of stories and sources for Facebook is automated but, based on the directions they received, some sources and topics are "blacklisted" to avoid exposing readers to conservative points of view.
When the curators, hired by companies like BCForward and Pro Unlimited(which are then subcontracted through Accenture to provide workers for Facebook), arrive at work each day, they read through a list of trending topics ranked by Facebook's algorithm from most popular (or most engaged) to least. The curators then determine the news story the terms are related to.

The news curation team writes headlines for each of the topics, along with a three-sentence summary of the news story it's pegged to, and choose an image or Facebook video to attach to the topic. The news curator also chooses the "most substantive post" to summarize the topic, usually from a news website. The former contractors Gizmodo interviewed said they were asked to write neutral headlines, and encouraged to promote a video only if it had been uploaded to Facebook. They were also told to select articles from a list of preferred media outlets that included sites like the New York Times, Time, Variety, and other traditional outlets. They would regularly avoid sites like World Star Hip Hop, The Blaze, and Breitbart, but were never explicitly told to suppress those outlets. They were also discouraged from mentioning Twitter by name in headlines and summaries, and instead asked to refer to social media in a broader context.

News curators also have the power to "deactivate" (or blacklist) a trending topic—a power that those we spoke to exercised on a daily basis. A topic was often blacklisted if it didn't have at least three traditional news sources covering it, but otherwise the protocol was murky—meaning a curator could ostensibly blacklist a topic without a particularly good reason for doing so.
In July of 2015, The Federalist reported that Facebook blocked individual posts that mentioned the Center for Medical Progresses revelations about Planned Parenthood's illegal trafficking of aborted baby parts:
It appears, however, that social media giant Facebook is not a fan of the viral spread of the story. According to Russell Moore, a top official with the Southern Baptist Convention, Facebook is preventing his organization from sharing the story via Facebook.
 Blogger Joe Newby, whose book about Facebook's liberal bias is scheduled to be published next fall, has been writing about the Facebook censoring of conservatives since 2013 at his site Conservative Firing Line. Amongst the censorship incidents he has reported are:
Facebook took down a down the popular 2 Million Bikers to DC page over an benign comment that the number of bikers who attended the million Muslim march was much less than the "official" count.

An article discussing a petition on the White House "We the People" site which called for an end to censorship of speech dealing with Islam, was blocked and labeled as "unsafe" by Facebook (see picture at top of post). 

In March, Facebook told administrators of Wake Up America! that it removed a picture of the Obamas wearing a Che Guevara t-shirt (see below), claiming that it violated their "community standards."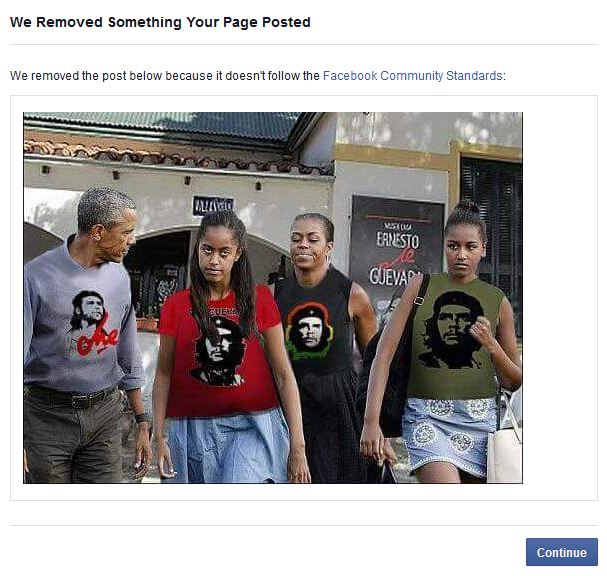 According to Facebook, it has over 1.6 billion active users, representing 21% of the 7.4 billion people in the world. That volume gives the social site incredible influence over world opinion. Sadly, instead of offering users a fair account of the news, it seems they are censoring both the news feed and the individual page posts to skew opinion to a liberal point of view.
Stuart Varney of Fox News also covered the Gizmodo story which is featured in the video below.