After Sen. Susan Collins (R-Maine) announced on the Senate floor Friday that she would be voting "yes" on Supreme Court nominee Brett Kavanaugh's confirmation, liberals lost their minds.
Collins, who is considered one of the swing votes in Kavanaugh's confirmation, said that she came to the decision "after weeks of reviewing Kavanaugh's record, speaking with experts and contemplating the Senate's role in the confirmation of Supreme Court justices," MRCTV reported.
She also said that the allegations against him failed to meet a standard of "more likely than not" and that she does not "believe these charges can fairly prevent Judge Kavanaugh from fairly serving on the court."
Twitter quickly erupted in anger, cussing at Collins, calling her names among other vulgar remarks.
WARNING: EXPLICIT LANGUAGE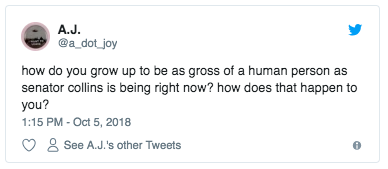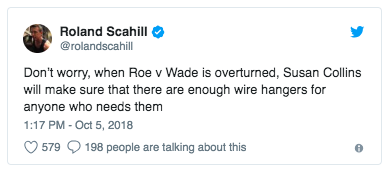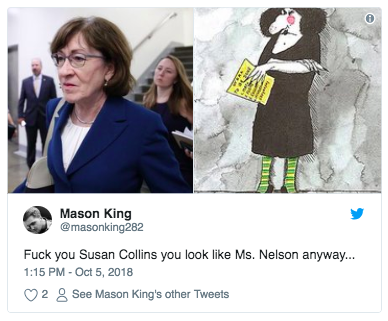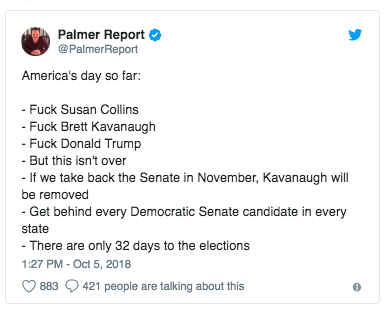 Others resorted to vague threats: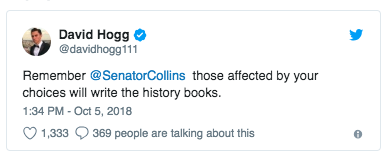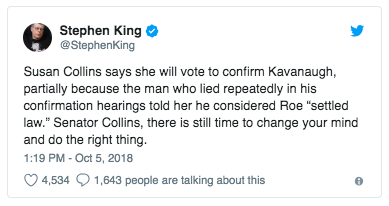 Many tweeted that they intended on raising money for anyone to run against Collins in 2020.
The CrowdPac page entitled, "Either Sen. Collins Votes No on Kavanaugh or We Fund Her Future Opponent," crashed from so many people making contributions.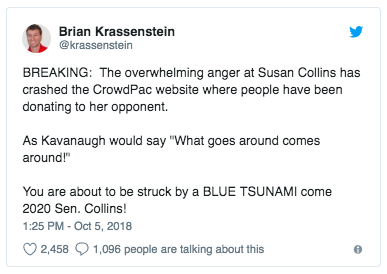 Former National Security Advisor Susan Rice on Friday sent a tweet suggesting her potential bid.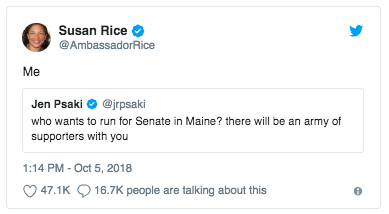 Others have expressed interest in running against Collins, including Speaker of the Maine House Sara Gideon.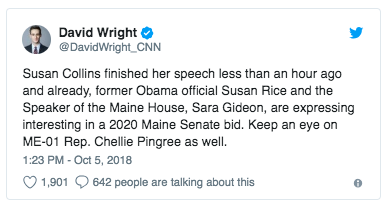 Apparently there is a planned protest for Sunday in Portland, Maine, to "let her know what we think about this vote," one person tweeted.
Protesters plan to "confront Collins" at the Portland Jetport.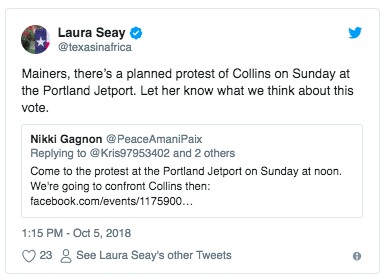 Because protesting and descending on her offices in Maine and Washington, D.C. worked so well, right? Some pointed out how "aggressive protesting" in September may have backfired in Collins decision to vote "yes."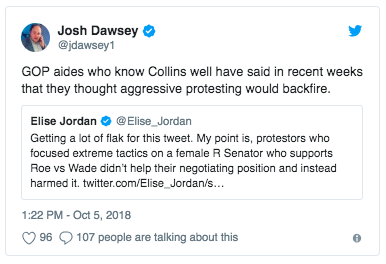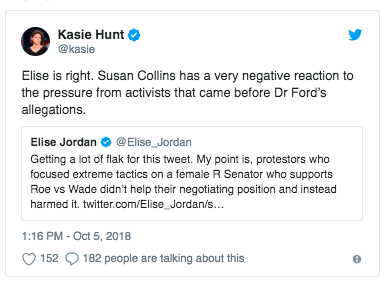 With swing votes Sen. Collins, Sen. Jeff Flake (R-Ariz.) and Sen. Joe Manchin (D-W.V.) all having announced that they intend to vote "yes," it appears that Kavanaugh's confirmation is all but certain.
Oh, and here's this gem from another disgruntled individual: 

The Senate is expected to hold a final vote Saturday.