The mayor of Somerville, Massachusetts, Joseph Curtatone is boycotting Boston-based brew Sam Adams after founder Jim Koch thanked President Trump for making tax reform happen.
Curtatone in a tweet said that he will "never drink Sam Adams again!" citing an article with Koch's remarks on the president's tax cuts.
Koch made the comments while attending a dinner with Trump and 12 other executives to talk economy. Other attendees at the event held on the president's New Jersey golf course last week included Johnson & Johnson CEO Alex Gorsky, FedEx Corp. CEO Fred Smith, Boeing CEO Dennis Muilenburg, and outgoing PepsiCo Inc. CEO Indra Nooyi, reports the Boston Business Journal.
Koch said he was "not quite sure" why he was there among the others being "the smallest company by far" at the dinner. But speaking on behalf of all small brewers in the U.S. who can now compete on a "level playing field" with foreign companies as a result of tax reform, "thank you," he said.   
"When I started Sam Adams, American beer was a joke, and it pissed me off. And now, American brewers make the best beer in the world. And the tax reform was a very big deal for all of us, because 85 percent of the beer made in the United States is owned by foreign companies," said Koch.
"I mean, Americans — I'm the largest American-owned brewery at 2 percent market share. We were paying 38 percent taxes — and competing against people who were paying 20. And now we have a level playing field, and we're going to kick their ass," he continued.
"Thank you," Koch said to Trump.
Many came to Koch's defense, calling Curtatone "petty" for politicizing beer, of all things.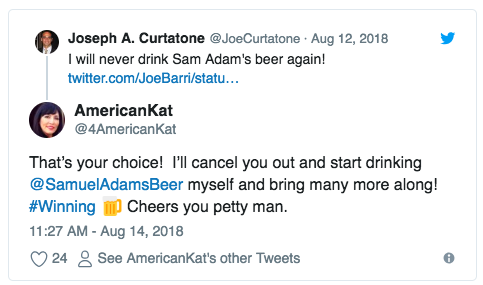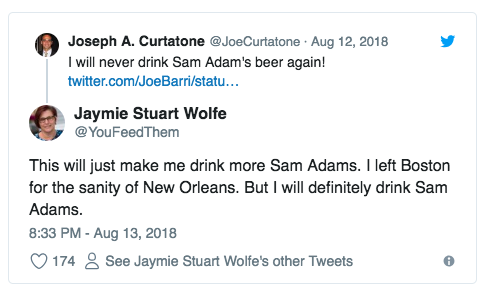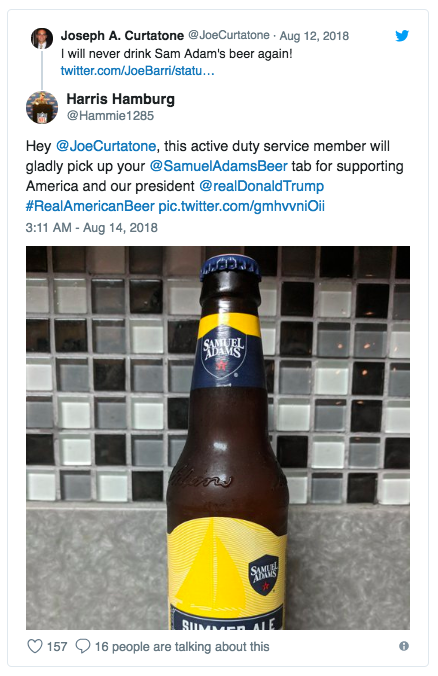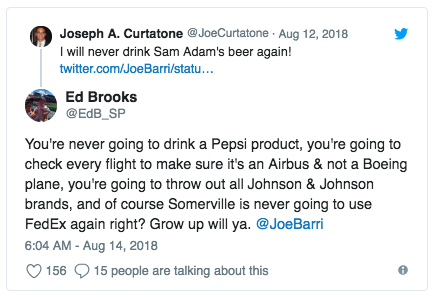 Another tweeted asking if Curtatone as mayor was "officially against business growth and job opportunities for the citizens of your city?"
Despite the pushback, Curtatone kept on bashing Koch, calling him a "complicit profiteer of Trump's white nationalist agenda." And to all of his critics who said they would starting drinking or would drink more Sam Adams because of his tweet, Curtatone said that "they'll be onto their new outrage soon enough and back to drinking whatever it is they drank before this." 
He doubled down on Tuesday, saying that he "made a lot of bots really angry." 
All Koch was doing was thanking the president for looking out for American businesses. Since when was that a crime? Talk about a political stunt. 
Check out Koch's remarks below.
MRCTV Reader,
The liberal media are terrified of the truth, especially when it leads to uncomfortable questions about their own leftist worldview.
MRCTV is the multimedia division of MRC featuring original content and aggregated videos of the news, people, and events conservatives care about.
MRCTV relies on the support of our loyal readers (and video viewers) to keep providing the news and commentary that matter to the American people, not just stories that prop up the liberal agenda.
Make a donation today. Just $15 a month would make a tremendous impact and enable us to keeping shining the light where the liberal media are afraid to tread.
— The MRCTV Team
DONATE
Connect
Sign up for our MRCTV newsletter to receive the latest news.
Sponsored Links