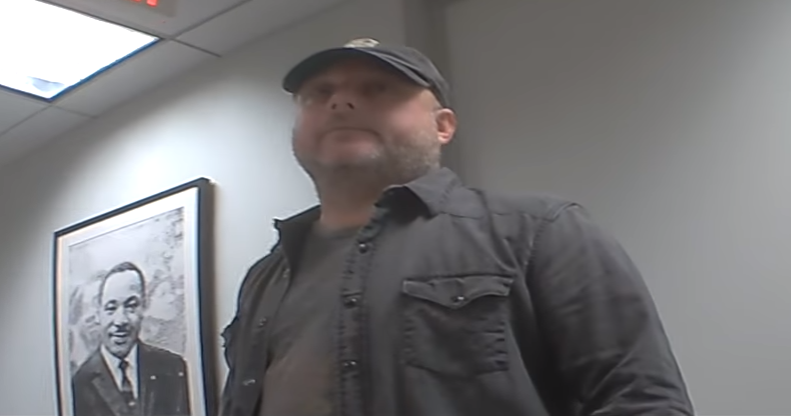 Ready for round six, folks?
James O'Keefe's organization, Project Veritas Action (PVA), released yet another video Wednesday afternoon titled, "DNC Schemes to Bully Women at Trump Rally."
In this video, the Democratic National Committee's Rapid Response Coordinator and associate at Democracy Partners, Aaron Black, talks about how they can use verbally abusive and antagonistic women at Trump rallies to incite a "bullying" response from male Trump supporters. (The founder of Democracy Partners, Bob Creamer, said on Tuesday evening that he was going to be "stepping back from his responsibilities" as far as working with the Clinton campaign as the result of the PVA video.)
At one point in the short video, Black tells a co-worker, identified in the video only as Lauren, about his master plan to elicit the response he wants from the male contingent at Trump's rallies:
Hey Lauren, so we get people behind Trump when he's at a rally, but we make sure it's women and they are positioned next to men.

We want images of the men bullying the women who are trying to hold their signs up. That's what I'm going to do. That is what we're going to do. That is the hit.
When the PVA reporter asks Black how he would go about getting this idea accomplished, Black replies, "They're going to have to show up seven hours ahead of time and wait in line to get there early."
After the PVA reporter follows up by asking if the reason why people will show up early is so his planted female protesters can pretend to be Trump supporters and stand behind him on camera, Black responds, "Yup, and fold those signs that we have and put them in their pockets."
For the video evidence of Black's comments, watch below:
See also:
Thank you for supporting MRCTV! As a tax-deductible, charitable organization, we rely on the support of our readers to keep us running! Straight from Founder and President, Brent Bozell, please read the MRC request for support here to see how you can join the movement!