The director of the University of Wisconsin-Milwaukee's Inclusive Excellence Center warned MRCTV that reporting on the center's microaggression awareness program might result in murder, assault, and rape.
In order to help students become "citizens of global and diverse communities," UWM's Inclusive Excellence Center has created a "Just Words?" initiative to combat microaggressions.
"Microaggression" is defined on a flier for the program as a "brief and commonplace daily verbal, behavioral, or environmental humiliations, whether intentional or unintentional that communicate hostile, derogatory, or negative slights and insults. Typically based in assumptions and stereotypes."
Examples of microaggressions, according to the Inclusive Excellence Center, include "Nazi," "Third World," "illegal alien," "man up," and "politically correct" (PC).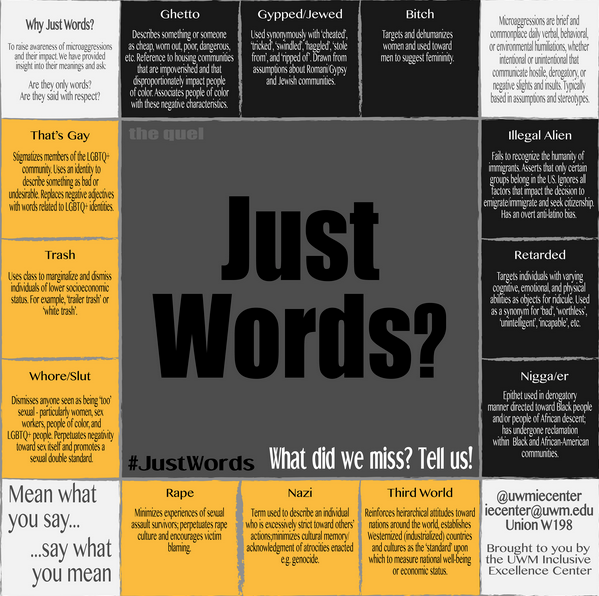 (Image source: Inclusive Excellence Center)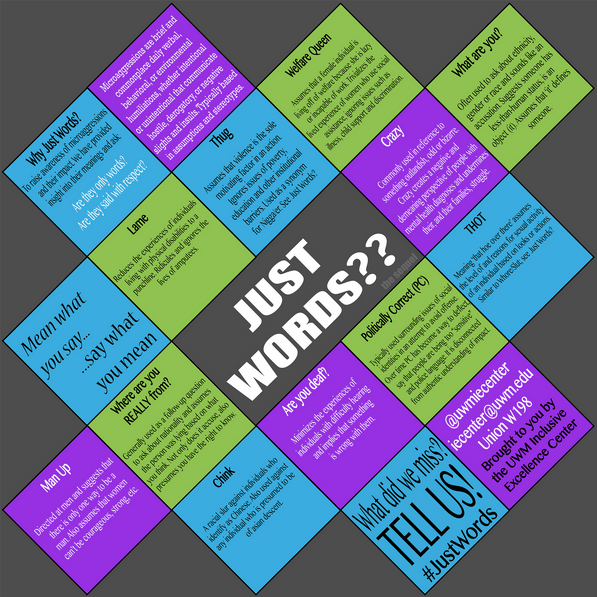 (Image source: Inclusive Excellence Center)
Although "Just Words?" is intended to inform students that certain words are considered hurtful microaggressions that should be avoided, the colorful "Just Words?" website states, "We are not seeking to tell people what they can/cannot say; this will bring me to Politically Correct in moments."
The "Politically Correct" section reads, "I'd like to add Politically Correct (PC) to program… and seek a way to succinctly outline/define PC for its basis, purpose especially how its used now to let people hide their bias but also minimize the pushback they received after contributing aggressive [sic]."
The language used by the Inclusive Excellence Center is unclear and inconsistent. According to the Inclusive Excellence Center's flier, the phrase "politically correct" is a microaggression. The website for the "Just Words?" campaign, however, uses the phrase "politically correct" and states the Inclusive Excellence Center hopes to create a program to address political correctness.
At the same time, it is not clear whether the "Just Words?" campaign claims the microaggression "politically correct" is ironically used to police language, or whether accusing "politically correct" students of trying to police language constitutes a microaggression.
MRCTV was referred to the director of UWM Inclusive Excellence Center, Warren Scherer, in order to obtain more information about the school's "Just Words?" campaign.
Instead of responding to the questions, Scherer demanded to know MRCTV's editorial process.
Despite the setback, MRCTV still wanted to provide "per" (Scherer's preferred pronoun according to per staff listings) the opportunity to clarify some of the vague language, grammatical errors, and incomplete sentences used on the "Just Words?" website and accompanying flier.
In response, instead of answering the question, Scherer replied that per thought the story was already written and "you want me to defend myself" - adding that per would hold MRCTV "personally responsible" if "the young men and young women who work in my office, receive threats of murder, assault, rape, etc. or any other harassing communication as a result of your publication."
Although Scherer wrote on the "Just Words?" campaign website that per "would truly appreciate your insight, your critical engagement, your challenge," per did not respond to general inquiries about the program. Rather, Scherer, who earns $50,500 a year in taxpayer dollars (as of 2014) for per positions as director of the Inclusive Excellence Center, did not uphold the Inclusive Excellence Center's mission to creating a "welcome and inviting community" where "folks feel included, engaged, and connected."